With a deep understanding of agriculture and a desire to bring locally grown marigold flowers to the Goan community, Amona-based farmer Krishna Sinari has embarked on the high-tech venture of marigold farming.
RAMANDEEP KAUR | NT
Inspired by the need for locally grown marigold flowers, Krishna Sinari, the owner of Prakriti Farm Products, has started a high-tech venture of marigold farming in a 3,000-square-meter plot. With a total of 5,000 plants, his farm boasts vibrant yellow and orange marigold flowers.
The inspiration behind choosing marigold flowers as the primary crop stems, he says, is that even though Goa has a suitable environment for its growth, a majority of the flowers are brought in from other places. "Marigolds are essential for Diwali celebrations. So I chose to start my own marigold production to meet the local demand," says Sinari, who holds a diploma in agriculture and has done various courses to enhance his knowledge in the field.
Currently enjoying his first marigold harvest, the next crop of flowers will be during Diwali and later for Tulsi Vivah. After that, he will move on to the next crop. Sinari has previously cultivated hybrid chillies and lady fingers and plans to explore other crops like brinjals in future.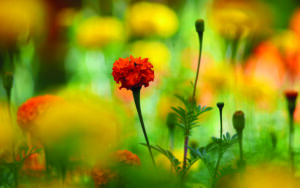 While facing challenges unique to the region, Sinari utilises techniques like proper irrigation and pest management to maximise production.
"To maintain the quality and freshness of the marigold flowers, I ensure that harvesting is done at the right time of flowering, allowing customers to receive fresh flowers. To maximise production, I utilise techniques such as proper watering, fertilisation, protection from insects, and removal of weeds. Technology plays a role in the form of the use of drip irrigation," he says, adding that marigold flowers are known as flowers of joy. "The scent of marigold flowers is believed to dispel stress and promote positivity and happiness," he says.
He adds that he makes use of the government subsidies and schemes that are available. Also, half of the marigold seeds were sponsored by Vedanta's Sesa Goa.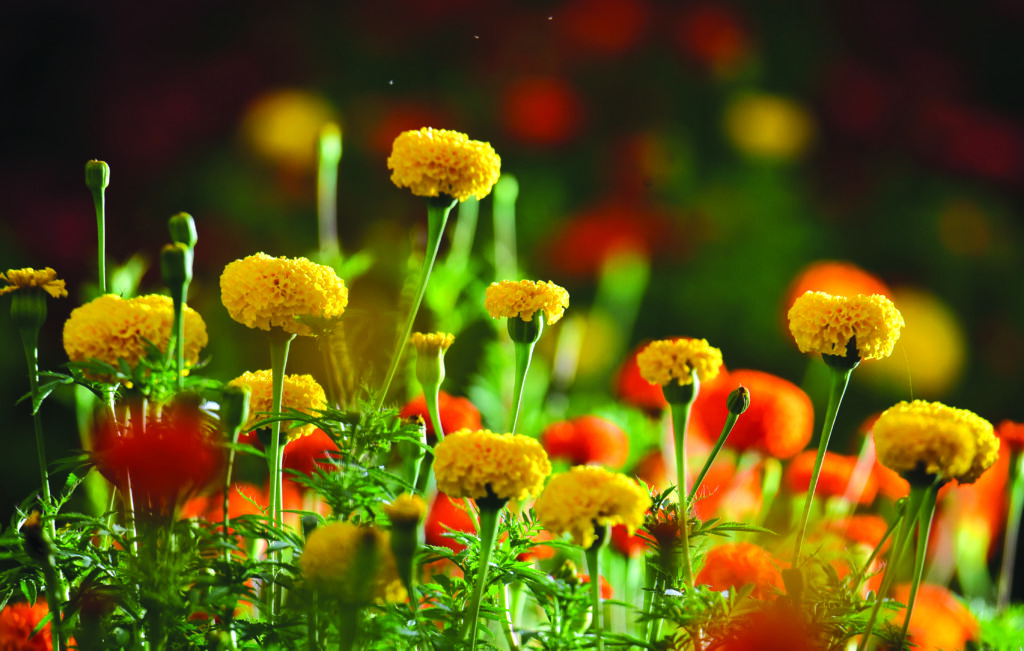 When it comes to sales, he says, he has been fortunate as local customers come directly to his farm to purchase flowers and he does not have to go to the market or any other location to sell. "So far, I have been selling marigolds at Rs. 100 per kilo. Yesterday, in just one hour, 200 kilos of flowers were sold," he says. Sinari also markets the flowers through online platforms, contacting small vendors for sales, and even allowing people to visit the farm for purchases.
Having engaged in agricultural activities for the past five years, he has two awards to his credit. He was recognised by the Directorate of Agriculture, Government of Goa with the Natural Farming Goa award for highest vermicompost producer. He also received the Star Farmer award from the Directorate of Agriculture, Government of Goa, in recognition of his outstanding contribution to the cause of agriculture.
His farm exemplifies vast potential through its integrated farming practices, which include dairy, piggery, vermicompost, plantation, and fisheries. At his farm, he welcomes students from schools and colleges who are eager to learn about agriculture, providing them with guidance and support.
For aspiring farmers or individuals interested in farming, he advises them to take a chance. "I want to encourage more people to take up farming as a profession. Agriculture is the future as we all need food to survive. It can't be grown by factories alone," he says. "Continue managing your job while pursuing your interests on the side. If things go well and you see progress, then you can take a bigger step. Don't treat it as just a hobby. Be professional, be disciplined, and assess the risks and rewards beforehand. Be brave, and you will surely achieve your dreams."
Sinari is currently in the process of establishing a mushroom unit, while also managing a poultry farm.
(Picture Credit: Hemant Parab)
Featured Events
An exhibition, 'Dakshin Gangotri' is being organised to celebrate the 40 years of the first Indian Research station in Antarctica. The exhibition is on till December 15 at the Philatelic Bureau, Opposite the Head Post Office, Panaji.
Kala Academy Goa has invited entries for the 9th Tiatr competition in 'B' Group. The last date for submission of entries at Kala Academy is December 12.
A painting exhibition by Mohit Naik and Mohan Naik, along with Sarah and Yolanda Kammermeier is being organised on December 14 at Art Chamber, Galeria de Belas Artes, Calangute. Details: 9822160073.
The Botanical Society of Goa is organising the 32nd Annual Home Garden Competition. Participants can send photos of their home garden by December 15 on botanicalsocietyofgoa@gmail.com.
The Indo-Portuguese Friendship – Goa will present the Xmas Dine & Dance 2023 on December 15, 7.30 p.m. onwards with foot-tapping music by 'Sound of Music'.
Clube Harmonia De Margao is organising a Christmas market on December 21 from 4 p.m. to 10 p.m. Details: 2714818 / 9765134443.