The 'Eternal Awadhi Food Festival' will take you back in time and give you a grand royal dining experience
RAMANDEEP KAUR & KALYANI JHA | NT 
From delectable kebabs to fragrant biryanis, the 'Eternal Awadhi Food Festival' which is currently on at Chulha, the Indian homestyle restaurant at Grand Hyatt Goa, Bambolim, is a testament to the centuries-old culinary legacy of this historic region.
Awadh was a region of India of old that now constitutes the northeast portion of Uttar Pradesh. The ongoing festival aims to bring the rich flavours of Awadhi cuisine to Goa and provide a unique culinary experience for everyone to enjoy.
To do this, the team has collaborated with Lucknow-based chef M. Rehman, also known as 'the roaming chef', who has been in the hospitality industry for 23 years. He brings with him a culinary lineage, as his great-grandfather was associated with the royal kitchen of Awadh during the British era. Even though he didn't plan on becoming a chef, his interest grew after hearing people praise Lucknow's food and royal heritage. This inspired him to pursue a career in cooking.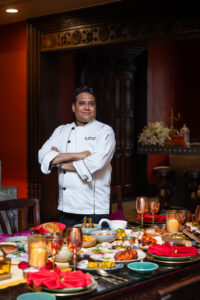 Rehman began by catering for local events in Lucknow. As his expertise grew, he expanded to other cities and began participating in food festivals, focusing on promoting Awadhi cuisine. In fact, he has worked extensively on reviving old and lost recipes. "Many individuals believe that Awadhi, Mughlai, or Hyderabadi cuisines cater to non-vegetarian preferences, with an abundance of kebabs and meat-centric dishes. I wanted to shatter this myth. I want to emphasise that there is an equal abundance of delectable options available for both vegetarians and non-vegetarians alike. At the festival, I offer a diverse range of vegetarian delights, ensuring every guest can indulge in a truly satisfying dining experience," says Rehman.
The festival menu has been carefully planned for the past two months.
The soup section has Chanp Elichi Ka Shorba (braised Rajasthani lamb chops cooked in a blend of ghee, turmeric, and cardamom, simmered to perfection in a flavourful lamb stock), Yakhini Pudina Shorba (traditional Awadhi chicken broth) and Bhune Tamatar aur Makkhan ka Shorba (charred tomato soup accompanied with roasted lotus seed). We selected a creamy Bhune Badam Jao ka Shorba (velvety roasted almond milk soup with barley) that had a nice crunch of roasted almonds and barley.
The drinks section has a selection of cocktails and mocktails created using the ingredients used to make traditional sharbat.
Some of the delicious starters include Nasheela Jheenga (tiger prawn marinated with 'asli araqnana' and chef's secret spices, cooked in a clay pot), Shahi Galawati Kabab (minced lamb infused with a blend of 18 secret spices, resulting in a melt-in-your-mouth experience). We opted for the Murgh Hazrat Mahal Malai Tikka, a chicken tikka with a creamy blend of cream cheese, cashew nuts, yoghurt, mace, cardamom, and a tantalising tandoor glaze. We also tried the Dum ki Machli wherein the fish is seasoned with turmeric, star anise, garlic, cumin, and mace, wrapped snugly and slow-cooked in a lagan. We also tried the Paneer Khubani Tikka which was an unusual tandoor dish comprising cottage cheese stuffed with apricot and nuts, an unusual coupling that is interesting to try.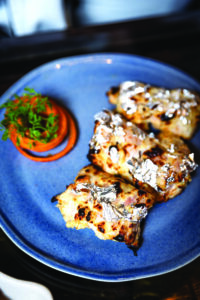 For the main course, we had Awadhi Naan to go with Tehrani Anaar Korma (creamy cottage cheese cooked in walnut and pomegranate gravy with olives). To accompany the main course, guests can choose from various pulao or rice dishes such as Murgh Boti Pulao, Zafrani Gosht Pulao, and Awadhi Subz Dum Pulao. Handcrafted Indian breads like Awadhi Naan and Khameeri Roti are also available.
We ended the royal meal with three delightful desserts Khubani Ka Meetha made using apricot, ghee, and desiccated coconut, Papeete Ka Halwa wherein papaya is tendered with milk finished with nuts and Chukandar-e-Afroz which is made using beetroot, ghee, mawa, and nuts and served with vanilla ice cream.
(The 'Eternal Awadhi Food Festival' is on till October 28.)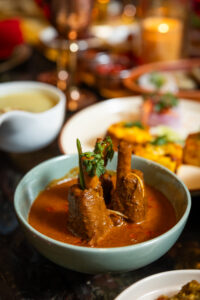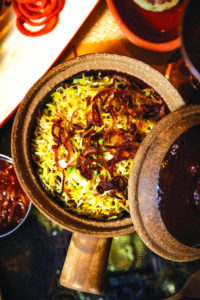 Featured Events
An exhibition, 'Dakshin Gangotri' is being organised to celebrate the 40 years of the first Indian Research station in Antarctica. The exhibition is on till December 15 at the Philatelic Bureau, Opposite the Head Post Office, Panaji.
Kala Academy Goa has invited entries for the 9th Tiatr competition in 'B' Group. The last date for submission of entries at Kala Academy is December 12.
A painting exhibition by Mohit Naik and Mohan Naik, along with Sarah and Yolanda Kammermeier is being organised on December 14 at Art Chamber, Galeria de Belas Artes, Calangute. Details: 9822160073.
The Botanical Society of Goa is organising the 32nd Annual Home Garden Competition. Participants can send photos of their home garden by December 15 on botanicalsocietyofgoa@gmail.com.
The Indo-Portuguese Friendship – Goa will present the Xmas Dine & Dance 2023 on December 15, 7.30 p.m. onwards with foot-tapping music by 'Sound of Music'.
Clube Harmonia De Margao is organising a Christmas market on December 21 from 4 p.m. to 10 p.m. Details: 2714818 / 9765134443.