Velha Goa Galeria 
Velha Goa Galeria is a place full of various creative pieces. They sell products like ceramic tiles, clay items, glassware, tableware, and cutlery. The majority of their products are Azulejos (hand painted glazed tiles). The price range of the products is approximately between Rs.300 and Rs.15,000. They also conduct workshops and hold exhibitions. 
Address- H.No.191, Rua de Ourém,
The Portuguese style craft, Azulejos, is beautiful. These hand-painted tiles take hours to make. Orlando Noronha went to Portugal and started getting into this craft. He says, " I always wanted to do something different. It's an art that I learned in Portugal in 1998 as a hobby and later on when I returned I thought of reintroducing this beautiful art in Goa with Goan designs, motifs, etc." He is of the opinion that it will always be trendy.
His place in Panjim, Azulejos de Goa, is crowded with these tiles and the most popular items are Azulejos tiles and plates. Orlando's products are also available at Taj Khazana, Magsons (Varca), Fisherman's Cove (Candolim), Diya art effects (Navelim), and Aparant Stores. The price range is between Rs.50 and Rs. 3000. He occasionally holds workshops. He plans to introduce this art to other parts of India as he himself said, "I love this Portuguese art form." Some of his other products are name plaques, borders, framed tiles, and souvenirs. It's a great way to decorate places or tell a story.
Address: Galeria Azulejos De Goa, Opp. Club National, Next to Sales Tax Office, Panjim, Goa
Telephone: 98229 76867
.
Interested in making your home or office have a unique look? Then Azulejos / hand-painted ceramics is worth looking into.
Bicholim Industrial Estate has a factory called 'Turi Azulejos', run by the talented Shankar Turi. He specializes in producing various Azulejos tiles - interior tiles, mural paintings, nameplates, mementoes, fridge magnets, and posters.
Mr Shankar decorates many of the tiles himself and  proudly comments, "I'm doing this art for the past 15 years." He sharpened his talents by studying Bachelors in Fine Art at Goa University and then specialized in Azulejos tile painting at Lisbon Portugal. His products are supplied to handicraft shops in Goa, Mario Gallery, and also private customers. One can also notice their tile work at the  Panjim garden, Fontainhas and Navelim church in Margao.
The process involved in making these tiles is to buy a biscuit, glaze it, sketch  & paint on it and bake it in an oven for 5 hours at temperatures ranging from 1020° to 1100° centigrade. The cost of one tile ranges from Rs.60  up to Rs.500. Other products manufactured are plates, mugs, clay work, garden pots and cement & fibre sculptures. You can even see statues manufactured at Turi Azulejos in some parts of Goa.
Address:  D2/13, Bicholim Industrial Estate, Bicholim Goa, 403504
Telephone: 0832 2360062/ 9822155409
Pics Credit - Shivang Mishra I NT GOGOANOW.COM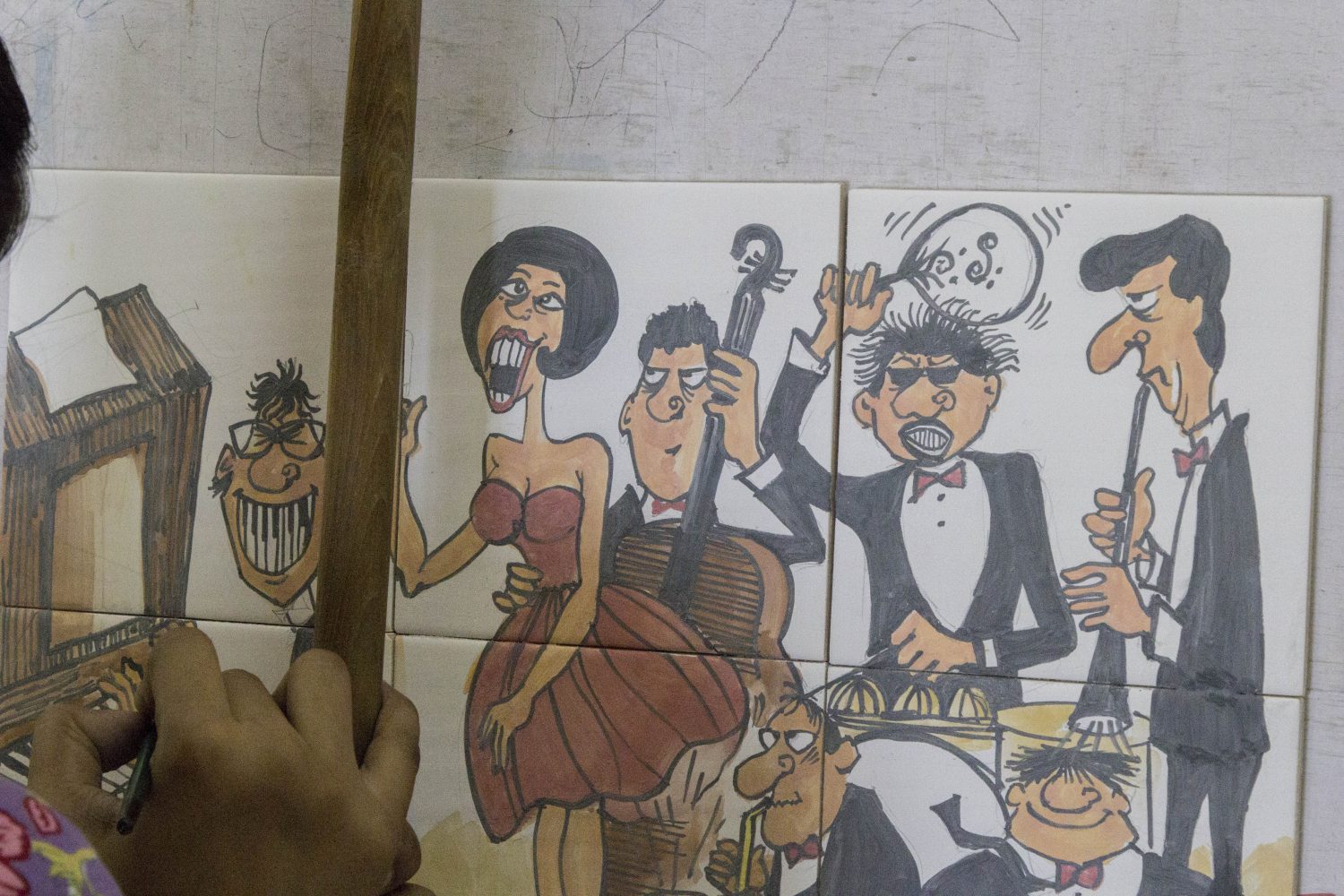 Featured Events
A Catholic men's conference will be held on February 5, 4.30 p.m. to 8 p.m. at the Carmelite Monastery, Margao. This event, which is inclusive of Sunday Mass is exclusively for men 21 years and above to deepen their relationship with Christ, enhance their personal, family and social commitments, and become aware of the Christian lay apostolate. The speakers at the conference will be Fr. Mario Fernandes, OCD and Fr. Alvito Fernandes, OCD. Details: 2735052/8050573532.
Thomas Stephens Konknni Kendr will be conducting a Konkani course from February 7 to March 9, 10 a.m to 12.30 p.m. from Monday to Friday at its premises at B.B. Borkar Road, Porvorim. Details: 2415857/ 2415864.
Goa Book Fair will be held from February 9 – 13 at Ravindra Bhavan, Margao.
The Mahalo Ukulele festival will be held on February 18 and 19 at Saraya Goa. Details: +971502460101.