The new menu at Fortune Miramar will leave you spoilt for choice with fascinating options from cuisines around the world
SHERYL GONSALVES | NT
It was a day when the sun struggled to shine through the clouds. The rain beat down against my helmet and didn't show any signs of letting up. However, even though there were partially waterlogged roads and traffic jams, there was one thing that kept me going – I was invited to try out the new menu at Fortune Miramar curated by executive chef William Dias. The new menu themed 'Savour' took two months to curate.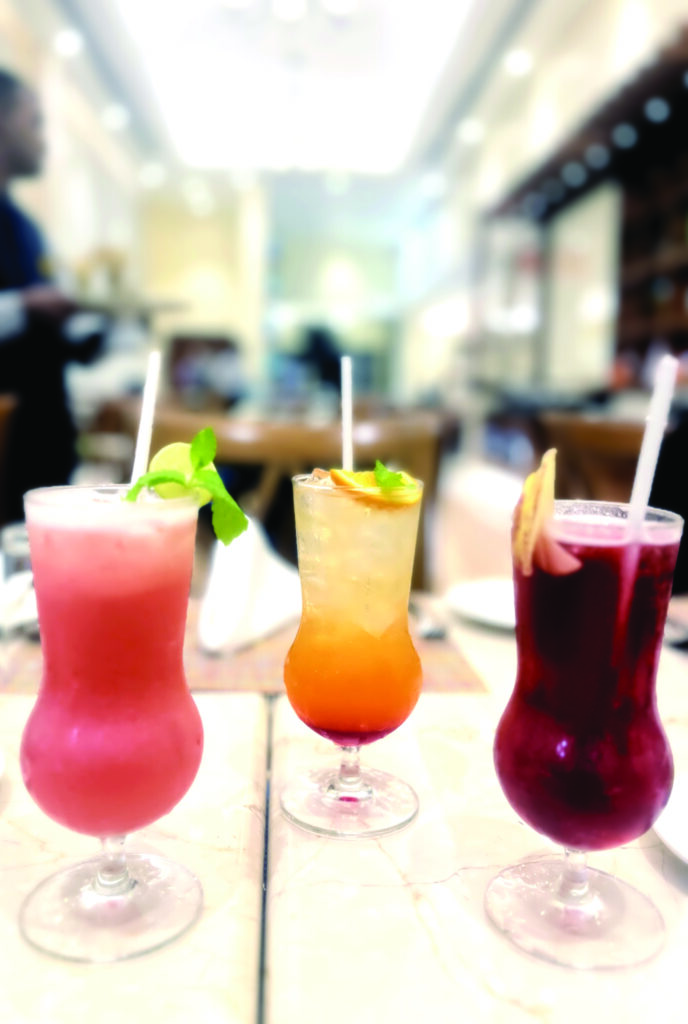 Entering the Orchid restaurant in the hotel was a sight for sore eyes. The classy bright interiors were a welcoming visual contrast against the gloomy skies. My colleagues and I enjoyed the colourful mocktails brought to our table and then started digging into the Mezze Platter which had a variety of different dips like Muhammara, Hummus, Tzatziki, Olive Tapenade, Cauliflower Tartar, and Fatoush Salad. They were perfect flavour bombs with spicy and creamy notes. The crispy pita bread elevated the eating experience by providing texture.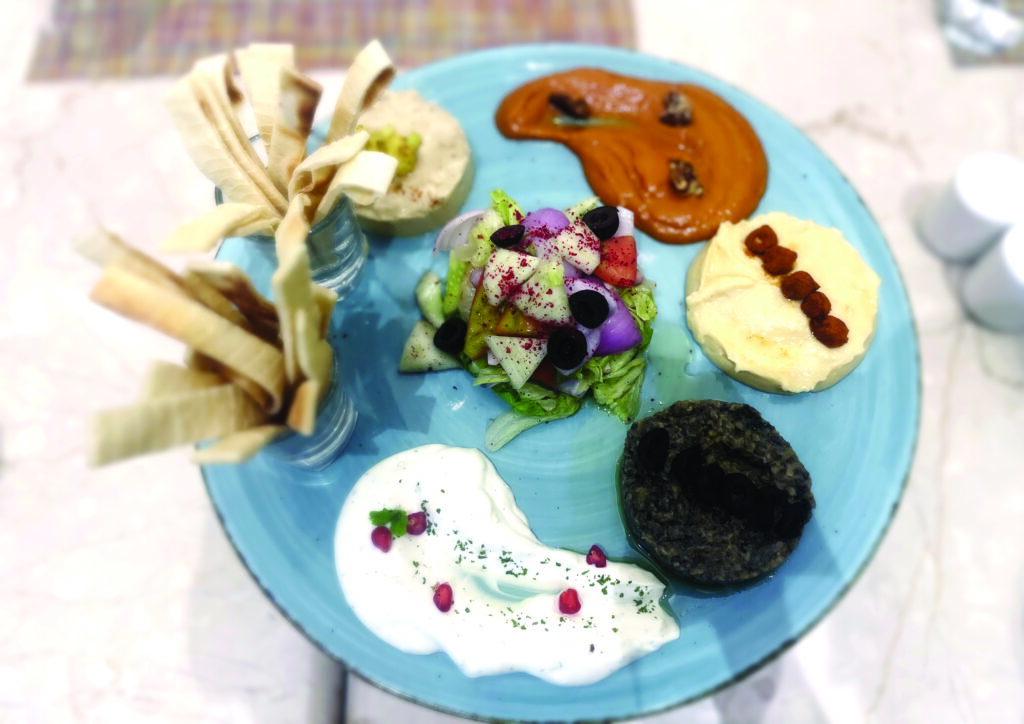 We then had Malai Broccoli which was marinated in cashew cream, yoghurt, and cardamom powder. It had an almost cheesy taste and was one of my favourite vegetarian starters. The Beetroot Cheese Tikki was sweetish and had a nice texture. If you are a chicken lover, you should definitely try out the Butter Chicken Tikka Kebab here. It was placed over a piece of naan and was soft, succulent, and bursting with flavour.
A simple, pleasant dish was their Herb-crusted Cauliflower Steak. It was served on a bed of creamy pesto with haricot beans and tomatoes. The menu also had Balchao and Cheese naan which was stuffed with the famous Goan Balchao masala.
After all this food we were quite full, but when we saw the remaining tantalising dishes we knew we had to make place for it somehow. After giving each other a pep talk we started digging into the Dajaj al Faham which is grilled chicken flavoured with Arabic spices, served with Toum. The Mutton Sukka infused with spices and curry leaves was delightfully pungent, making my colleague, Ramandeep, hastily grab a cold drink to soothe her taste buds. The biryani that reached our table had a generous serving of large prawns. It was aromatic and the Indian flavours shone through. Their beef stroganoff tasted good as well.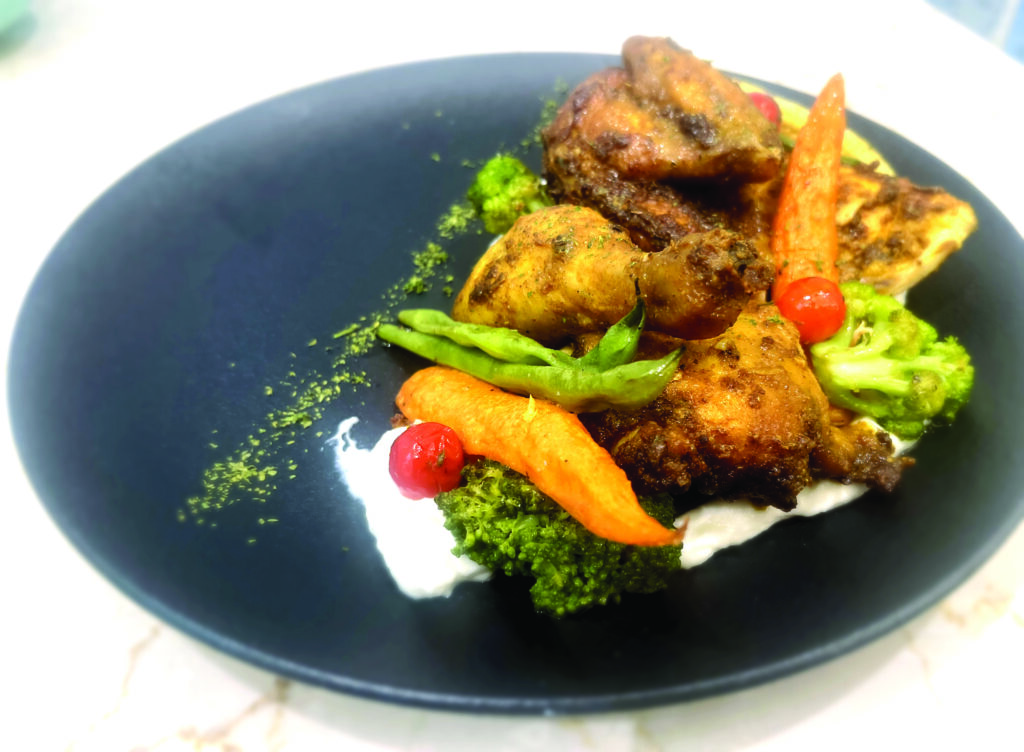 Finally, even though we could barely move, we of course had to have the desserts. The brownie was fudgy, topped with Kahlua cream, and a wonderful scoop of Bailey's ice cream. The other sweet option we tried was the Portuguese dessert Serradura which had gorgeous layers of sweet whipped cream and crushed tea cookies. It was the perfect end to our meal and we left the place with a smile making a mental note to visit again soon.
Featured Events
Sunaparanta Goa Centre for the Arts is organising an exhibition preview of the Korean artist Kyungwoo Chun's work titled, 'Song without Lyrics' on August 18 from 7 p.m. onwards at their premises. Last date of exhibition: November 11. Details: 9370675100/ 9767864206.
Caritas Goa in association with professional artist Lioba Knepple is organising a new certificate course on 'Art as healing tool' every Saturday from August 26 to November 4 at Institute Nosa Senhora de Piedade, near Hotel Mandovi, Panaji. Fee: Rs.2500. Details: 9422362627.
The Directorate of Sports and Youth Affairs is organising the South District Youth Festival on September 26 and 27 at Ravindra Bhavan, Margao, North District Youth Festival on September 29 and 30 at Ravindra Bhavan, Sankhali and State Level Youth Festival on October 5 and 6. Details: 2465704/dir-spor.goa@nic.in
Motoverse 2023 is all set to return for an epic weekend full of fun and adventure at Vagator from November 24 to 26, 2023. Register at: https://www.royalenfield.com/in/en/rides/events/motoverse/register
Fundacao Oriente Panaji is organising the 7th Fundação Oriente Short Story Competition. In this regard, the organisation will organise a creative writing workshop between June 23 and 25. Entries for the competition 2023 will be accepted between August 15 and 30. The shortlisted stories will be announced on November 30 and the winners will be declared at a function to be held on December 8. The winning and shortlisted stories will be translated into English and published in the anthology 'Short Stories from Goa' in 2024. Regulations and registration forms are available on request by email to fossc2023@gmail.com. Details: 2230728.