The heat is intense but it's the time of the year that seasonal fruits are available in plenty
Seasonal fruits are popular among locals in Goa, especially during the summer. With the popularity of social media, these summer fruits are searched on Google and tracked down in the markets. This has increased demand and has caused the prices to go up.
Mangoes, the king of fruits, have always been the favourite. The 'Mankurad' is so superior that in the Panaji market, people spent about Rs 4,000 a dozen after the mangoes came to the markets in March. The rates have stabilised but ask the elders around and they'd say, "People would give them to us for a song (free). We never had to think twice before buying Mankurad mangoes but today it's out of the common man's reach."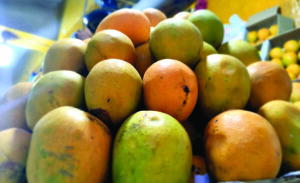 Raw mangoes are coveted too. Used for pickles, preservatives and to go along with urrack with some salt and chilli, the markets are flooded with raw mangoes. 'Panne' is a cooler made from raw mangoes.
Fresh tender cashews (bibbe) are used in various recipes. These cashews are plucked and peeled to get tender cashews. A favourite of Goans, there's so much joy in peeling them as they are munched on. Pretty expensive at Rs.100 for 20, each year their rates move higher. Bibbes are plucked long before they grow into mature cashew nuts.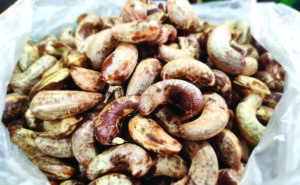 'Jambhalam' or 'Zambllam' is another fruit available this season. Found in almost all villages, it is dark purple or nearly black in colour when ripened and has a sweet, mildly sour and astringent flavour. It is loved by those who have diabetes. The seeds are dried and ground into a powder that is consumed to lower blood sugar levels.
'Kokum' or 'Binnddam', as it is known, is more used in cooking, rather than as a fruit. Known by various names across India and used for various purposes, the fruit can be used to prepare a refreshing drink that is available as 'kokum sharbat'. The outer cover of the fruit is dried and used as a slightly sour spice as a substitute for tamarind in curries and other dishes. You can also find them in vegetable preparations.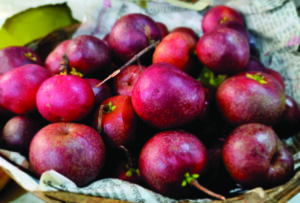 Carissa carandas or 'Kantam' are again locally found fruit. The fruit-bearing tree is thorny and the sweet-sour fruits are enjoyed during this time. The raw fruit is used for making pickles. While these are available in the markets, more often you can spot people on the highway selling this seasonal fruit in cups made of leaves.
Love apples, locally called 'jaam', they usually grow in bunches that are either white (light green) or pinkish red in colour. These juicy fruits are sweet and have a lot of water content. They are also used to make wine.
Watermelons are the best to beat the heat and are in demand during summer. It is interesting to note that many locals sell watermelons that they grow in their fields. Watermelon juice is as refreshing as an ice fruit.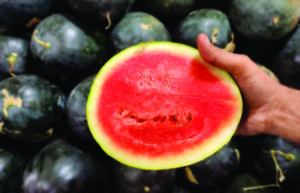 There are several other fruits and wild berries that one can find, including 'Chunna' and 'Koneram'. So head to the local markets, but also keep an eye on the roadside, to check out the local fruits.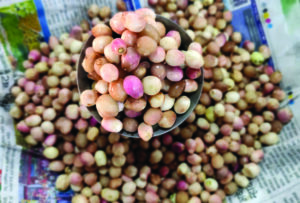 (Compiled by Danuska Da Gama) 
Pictures by: Hemant Parab
Featured Events
Sunaparanta Goa Centre for the Arts is organising an exhibition of Works from the Goa Open Arts Grants 2022 – 2023, Echoes till June 10 at their premises. Details: 9370675100.
SMRC's V.M. Salgaocar Hospital in association with Caring Souls and in collaboration with the Goa Medical College (GMC) will be organising a blood donation camp on June 8 from 9.30 a.m. to 1.30 p.m. at the SMRC Hospital, Off Airport Road, Chicalim. Details: 83266 91919 / 9158000900.
A pottery workshop is being held every Friday and Saturday from 3 p.m. to 5 p.m. at Carpe Diem Art Centre, Majorda. Details: 2881035 / 8888862462.
Fundacao Oriente Panaji is organising the 7th Fundação Oriente Short Story Competition. In this regard, the organisation will organise a creative writing workshop between June 23 and 25. Entries for the competition 2023 will be accepted between August 15 and 30. The shortlisted stories will be announced on November 30 and the winners will be declared at a function to be held on December 8. The winning and shortlisted stories will be translated into English and published in the anthology 'Short Stories from Goa' in 2024. Regulations and registration forms are available on request by email to fossc2023@gmail.com. Details: 2230728.