Come summer and mango is one of the fruits on everyone's mind. One can relish the fruit in its many moods at the ongoing 'Mangoholic Delights' till May 31 from 9 a.m. to 10 p.m. at Goa Baking Company, Goa Marriott Resort & Spa, Miramar. There is an array of bakes, pastries, smoothies, shakes, ice creams and more.
RAMANDEEP KAUR & SHERYL GONSALVES | NT
In cakes, there is the Alphonso mango boomer (classic mascarpone cream with fresh mango compote), spice mangles mangozza (sweet chili brule, mango cremeux and almond financier), kesar mango cheesecake (mango cheesecake, Oreo crust and chantilly cream), 'aam panna' with strawberry confit ('aam panna' mousse, pistachio sponge and crunch) and payari mango and coconut cake (coconut dacquoise and payari cream).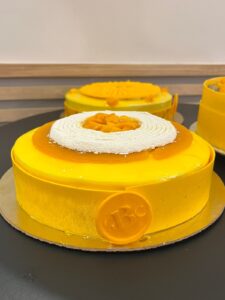 Pastries include mango cream tart (sweet paste, cloudy cream and mango), classic mango popsicles (mango mousse and crunch), mango crepe cake (crepe, mango ganache) and 'aam petti' (vanilla sponge and mango cream). There are two types of ice creams and macarons in flavours of mango basil, raspberry mango and just mango by itself.
Chef de Partie (pastry) Gouri Khanna says, "We have showcased our fusion and classical desserts of mango. We have homemade ice creams, macarons and chocolate — all made with a base of mangoes. We looked out for the varieties of mangoes available in the market. So we have used Mankurad, Alphonso and Kesari in desserts. For fusion, we looked to create a mango-based ice cream and we came up with the idea of using basil with mango because both are fresh elements. Then Oreo is very 'in' at the moment, and so we made cheesecake out of it."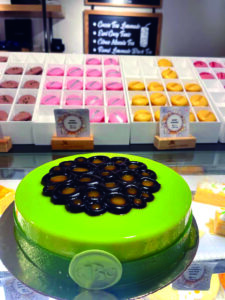 Even though everything features mangoes, the flavours of each dish are wildly different. The 'aam petti' is light and creamy. The fresh mangoes piled on top lend to that refreshing taste while the sweetness is just right. It is decorated with an elegant chocolate border which also shines with mango flavour. The mango crepe cake has an intense flavour of the beloved fruit and is perfect for those craving a sugar rush. For cheesecake lovers, their Kesar mango cheesecake will make your taste buds rejoice as it is thick, creamy, sweet, and tart. The Oreo crust at the bottom perfectly complements it.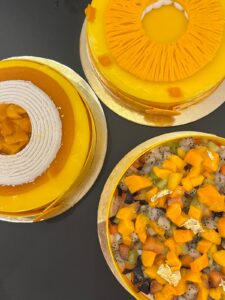 Their mango basil ice cream is excellent to have on its own or as an accompaniment to the main desserts. The flavour combination is interesting as the basil was showcased as much as the mango, which gave the ice cream a certain amount of freshness. Another aesthetically pleasing dish is the classic mango popsicle, which contains mango mousse and an additional surprise.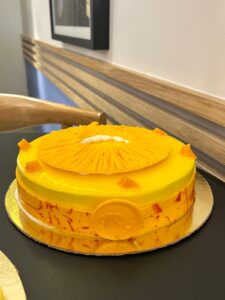 All in all, it was an overload of mangoes that we're still stuck on. But what's wrong with that? This is the only season to get high on mangoes.
Featured Events
Sunaparanta Goa Centre for the Arts is organising an exhibition of Works from the Goa Open Arts Grants 2022 – 2023, Echoes till June 10 at their premises. Details: 9370675100.
SMRC's V.M. Salgaocar Hospital in association with Caring Souls and in collaboration with the Goa Medical College (GMC) will be organising a blood donation camp on June 8 from 9.30 a.m. to 1.30 p.m. at the SMRC Hospital, Off Airport Road, Chicalim. Details: 83266 91919 / 9158000900.
A pottery workshop is being held every Friday and Saturday from 3 p.m. to 5 p.m. at Carpe Diem Art Centre, Majorda. Details: 2881035 / 8888862462.
Fundacao Oriente Panaji is organising the 7th Fundação Oriente Short Story Competition. In this regard, the organisation will organise a creative writing workshop between June 23 and 25. Entries for the competition 2023 will be accepted between August 15 and 30. The shortlisted stories will be announced on November 30 and the winners will be declared at a function to be held on December 8. The winning and shortlisted stories will be translated into English and published in the anthology 'Short Stories from Goa' in 2024. Regulations and registration forms are available on request by email to fossc2023@gmail.com. Details: 2230728.