One of the most calming experiences is to just sit and watch the sunset as the sky changes colors from blue to yellow to a dark hue. Sunsets are ageless and are calming in an inexplicable way. NT GoGoaNow suggests 5 places with the perfect picturesque sunset view you should try and visit during your stay.
Vagator Beach
Vagator beach is one of the most beautiful beaches in Goa. The beach is filled with rocks and two mighty hills surrounding it with a view of the Chapora Fort standing on the hill. It's one of the few beaches in Goa with rocks thus making it a picture-worthy place. It also makes the perfect place to go for an evening walk or just sitting away lost in thought.
Fort Aguada Lighthouse:
A small walk away from Fort Aguada is the Lighthouse. The lighthouse has been a guiding light for many ships through the years and is also overlooking the Arabian sea. However, there's more for the wanderer to explore; Take a little walk further and you'll reach the end of the hilltop. The place an open pasture area and you can take a view of the beaches below. Few visitors come daily to visit this place and enjoy the sunset as they sit on the hill.
Bagjuna Beach
This hidden gem is visible through the Baga creek. A little trek away stands this beach. This beach is comparatively small and is surrounded by a hill. It's a place to visit if you want a little bit of quiet and the crowd. The place is best when visited in early mornings and evenings.
Shirdona Beach
Shirdona beach is approximately 10 km away from Panjim. To make it to the beach one must cross narrow roads and still, intact Portugal styled villas. This beach even though on the interiors of the city gets many visitors, locals, and tourists both. The feature of this beach is its white sand and fewer people. A seating area is designated for the people who come to Shirdona beach.
Chapora Fort
Chapora Fort is approximately 10 km away from Calangute. It's quite a walk from the initial point but it definitely has one of the most beautiful views. The fort gives one a bird's eye view of the area surrounding the fort and the vast sea. A perk of visiting the fort is you get a glimpse of not only the vast blue sea but also the villages surrounding the fort. Chapora fort is best visited once post-monsoon.
Lyann D'souza I NT GOGOANOW.COM
Pic Credit – Shivang Mishra I NT GOGOANOW.COM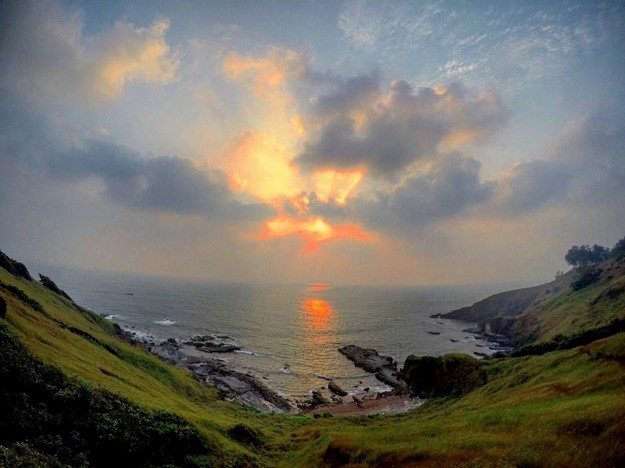 Featured Events
Sunaparanta Goa Centre for the Arts is organising an exhibition preview of the Korean artist Kyungwoo Chun's work titled, 'Song without Lyrics' on August 18 from 7 p.m. onwards at their premises. Last date of exhibition: November 11. Details: 9370675100/ 9767864206.
Caritas Goa in association with professional artist Lioba Knepple is organising a new certificate course on 'Art as healing tool' every Saturday from August 26 to November 4 at Institute Nosa Senhora de Piedade, near Hotel Mandovi, Panaji. Fee: Rs.2500. Details: 9422362627.
The Directorate of Sports and Youth Affairs is organising the South District Youth Festival on September 26 and 27 at Ravindra Bhavan, Margao, North District Youth Festival on September 29 and 30 at Ravindra Bhavan, Sankhali and State Level Youth Festival on October 5 and 6. Details: 2465704/dir-spor.goa@nic.in
Motoverse 2023 is all set to return for an epic weekend full of fun and adventure at Vagator from November 24 to 26, 2023. Register at: https://www.royalenfield.com/in/en/rides/events/motoverse/register
Fundacao Oriente Panaji is organising the 7th Fundação Oriente Short Story Competition. In this regard, the organisation will organise a creative writing workshop between June 23 and 25. Entries for the competition 2023 will be accepted between August 15 and 30. The shortlisted stories will be announced on November 30 and the winners will be declared at a function to be held on December 8. The winning and shortlisted stories will be translated into English and published in the anthology 'Short Stories from Goa' in 2024. Regulations and registration forms are available on request by email to fossc2023@gmail.com. Details: 2230728.