One of the most calming experiences is to just sit and watch the sunset as the sky changes colors from blue to yellow to a dark hue. Sunsets are ageless and are calming in an inexplicable way. NT GoGoaNow suggests 5 places with the perfect picturesque sunset view you should try and visit during your stay.
Vagator Beach
Vagator beach is one of the most beautiful beaches in Goa. The beach is filled with rocks and two mighty hills surrounding it with a view of the Chapora Fort standing on the hill. It's one of the few beaches in Goa with rocks thus making it a picture-worthy place. It also makes the perfect place to go for an evening walk or just sitting away lost in thought.
Fort Aguada Lighthouse:
A small walk away from Fort Aguada is the Lighthouse. The lighthouse has been a guiding light for many ships through the years and is also overlooking the Arabian sea. However, there's more for the wanderer to explore; Take a little walk further and you'll reach the end of the hilltop. The place an open pasture area and you can take a view of the beaches below. Few visitors come daily to visit this place and enjoy the sunset as they sit on the hill.
Bagjuna Beach
This hidden gem is visible through the Baga creek. A little trek away stands this beach. This beach is comparatively small and is surrounded by a hill. It's a place to visit if you want a little bit of quiet and the crowd. The place is best when visited in early mornings and evenings.
Shirdona Beach
Shirdona beach is approximately 10 km away from Panjim. To make it to the beach one must cross narrow roads and still, intact Portugal styled villas. This beach even though on the interiors of the city gets many visitors, locals, and tourists both. The feature of this beach is its white sand and fewer people. A seating area is designated for the people who come to Shirdona beach.
Chapora Fort
Chapora Fort is approximately 10 km away from Calangute. It's quite a walk from the initial point but it definitely has one of the most beautiful views. The fort gives one a bird's eye view of the area surrounding the fort and the vast sea. A perk of visiting the fort is you get a glimpse of not only the vast blue sea but also the villages surrounding the fort. Chapora fort is best visited once post-monsoon.
Lyann D'souza I NT GOGOANOW.COM
Pic Credit – Shivang Mishra I NT GOGOANOW.COM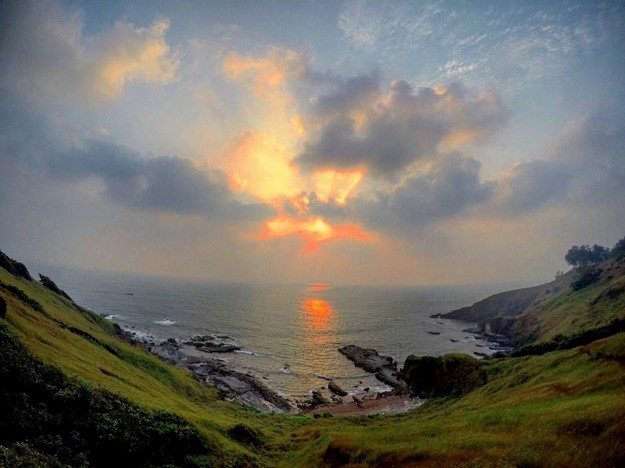 Featured Events
Goa Heritage Action Group is organising the Heritage Walk Festival from April 1 to April 16. It will include 25 heritage walks all around Goa led by resource persons who are renowned in their chosen fields of research and experience. Register: www.heritagewalkfest.com
A linocut workshop will be held on April 2, 11 a.m. at Carpe Diem, Majorda Participants will learn to use carving tools to create their own stamp designs in 'negative' design so that the positive impression can be used with ink as one's own personal customised stamp. Register by March 30. Details: 2881035/8888862462/info@carpediemgoa.com
Goa Science Centre, Miramar, will be organising a computer awareness programme for senior citizens and general public from April 3 to 8, 3 p.m. to 5 p.m. Limited seats. Entry on a first come first served basis. Nominal registration fees will be charged. Details: gscp.education@gmail.com.
Indo Portuguese Friendship Society, Altinho, Panaji, is organising its annual traditional, Noite-Indo Portuguesa Dine and Dance on April 14, 7.30 p.m. at Coco Loco, Agacaim. Details: 9552596875/ 9822046004.