Tucked away in the village of Assagao, Qlay is grabbing attention for its sensational dining experience
Danuska Da Gama | NT
Mediterranean food has several benefits, including preventing cardiovascular diseases and ensuring an increased lifespan. The fresh ingredients and cooking methods have made this cuisine popular.
After their successful food experiments in Delhi, chef Mithun Tyagi and the owners Ankit and Nikhil chose Goa to be the destination for their Mediterranean kitchen, bar and grill.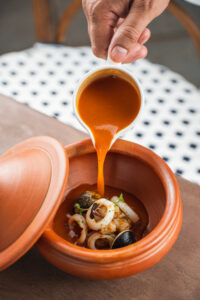 Located on the main road that connects Assagao to Siolim, Qlay is large and inviting. The landmark is the huge banyan tree that cannot be missed and which is part of the restaurant. The Mediterranean kitchen, grill and bar have a lot of greenery and with a pottery wall. The cabana seating, low day beds, and loungers make it easy for you to relax. The Indo-Portuguese and soft Mediterranean-inspired design gives calms one the moment you set foot here.
Tyagi, who is on his feet delighting customers with the food, chooses local, fresh produce, besides importing ingredients staple to the cuisine that cannot be sourced here.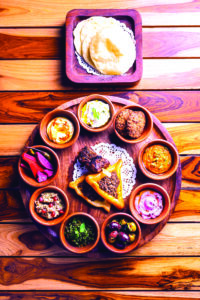 Infused cocktails are a thing here and learning the process of how these cocktails are infused with coffee or roasted almonds heightens the experience of savouring the notes with each sip. Besides, Emerald Beach, Beet Detox and Lilliet Time are classic cocktails recommended by the mixologist. If you know your preferred base, he can swirl up an interesting concoction.
At Qlay, the menu has the soul of Mediterranean food – olive, wheat and grapes – at is very core. And from Neapolitan pizzas and handmade pastas to grills and bakes, the menu is overloaded with flavours to tame your soul.
We took off with the simply divine Bruschetta Al Funghi di Bosco e Caprine (forget the pronunciation) i.e. oven toasted bread topped with mushroom and goat cheese. Utmost attention is paid to the smallest detail here, including freshly grating some parmesan cheese on the mushroom filling. As I am a fan of salmon, the Smoked Tostada was brilliant with the crunchy in-house made toasties that you will not find anywhere else.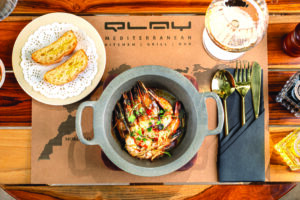 We then decided to sample the Greek offerings and tried out the Greek Meat Balls served with tzatziki. These had just the right amount of seasoning for the incredible taste with a slightly earthy flavour owing to it being wood-fired. I was intrigued enough to want to try out the Camembert Envoltini — phyllo sheets stuffed with fig and caramelised roasted peach. But we had many other options to try too.
If you're a soup lover, the menu has interesting options. But we skipped this. We also chose to skip the highly recommended Mezze platter but these will be on our list for our second visit here.
The pasta section is again vast. After much contemplation, we zeroed in on the Rigatoni Alla Carbonara which had bacon, egg, and Roman pecorino cheese and was heavenly.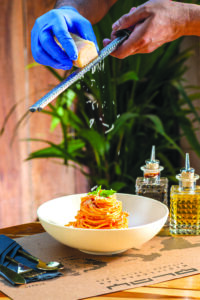 The Paella Valencia has a mix of meat, chorizo, seafood, and saffron. The food here can drive you nuts if you love flavours. Allergens and dietary restrictions are all taken care of.
The Lebanese grill section is perfect and the Kafta and Garlic chicken were both great, distinct in their own way. The plated mains have Ricotta Steak and Strudel di Funghi which is highly recommended. There's also the Baked Whole Fish and Honey and Soya Glazed Duck on the menu. The Napolitano pizza section has signature options like the Margherita, Quattro Formaggi and Pepperoni. Other options include Tuna and Rucola and Caponata e Gamberi (eggplant caponata, capers, pine seeds, smoked scarmoza cheese, broccoli, shrimp, mozzarella and the signature tomato sauce).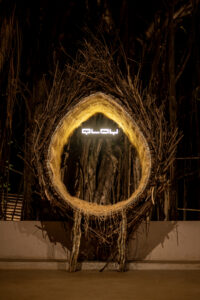 The desserts can make you die a thousand times. Being undecided, we let Tyagi choose what he would like us to try. The baked chocolate soufflé served with vanilla gelato, made it to the table along with a hearty portion of tiramisu served with some berry gelato.
At the end of about two and a half hours, we could barely move. But it was closing time. As we couldn't stop raving about the food, we clicked a picture with the entire team at Qlay and bid good night. With some great music on some days of the week and a brunch on Sundays, Qlay is the best in its league, so far at least.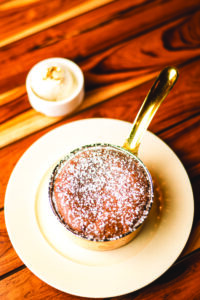 Featured Events
An exhibition, 'Dakshin Gangotri' is being organised to celebrate the 40 years of the first Indian Research station in Antarctica. The exhibition is on till December 15 at the Philatelic Bureau, Opposite the Head Post Office, Panaji.
Kala Academy Goa has invited entries for the 9th Tiatr competition in 'B' Group. The last date for submission of entries at Kala Academy is December 12.
A painting exhibition by Mohit Naik and Mohan Naik, along with Sarah and Yolanda Kammermeier is being organised on December 14 at Art Chamber, Galeria de Belas Artes, Calangute. Details: 9822160073.
The Botanical Society of Goa is organising the 32nd Annual Home Garden Competition. Participants can send photos of their home garden by December 15 on botanicalsocietyofgoa@gmail.com.
The Indo-Portuguese Friendship – Goa will present the Xmas Dine & Dance 2023 on December 15, 7.30 p.m. onwards with foot-tapping music by 'Sound of Music'.
Clube Harmonia De Margao is organising a Christmas market on December 21 from 4 p.m. to 10 p.m. Details: 2714818 / 9765134443.