The 'Ordem Terceira' also known as the 'Santachem Pursanv' or the Penitential Procession of Saints was observed on the fifth Monday of Lent, on March 19 at Saint Andrew Church in Goa Velha.
Thousands of people from all walks of faith thronged the church to be a part of this celebration and seek blessings through the intercession of the saints by passing under the charols and also ask for penance for their sins. The procession of 31 life-size statues that are centuries old were led by the Tau Cross - Coat of Arms, the insignia of the Franciscan order and was followed by other 30 charols shouldered by the confraria members of the Church.
The main celebrant of the Eucharistic service was parish priest of St Andrew Church, Fr Emidio Pinto in the presence of assistant parish priest, Fr Socorro Colaco, Fr Ubaldo Fernandes, Fr Benjamin Victoria, Fr Augusto Dias, Fr Salvador Rodrigues, Fr Salvador Fernandes and Fr Pedro D'Costa. In the homily during the mass Fr Emidio spoke on the theme, 'Santa bhokta baxen mogan jieun jezuchea utrak zaiti follam diunk ani tachem utor dusreank shikounk dev amkam apoita' (God calls us to live and spread his word like the saints did).
Pic Credits- Hemant Parab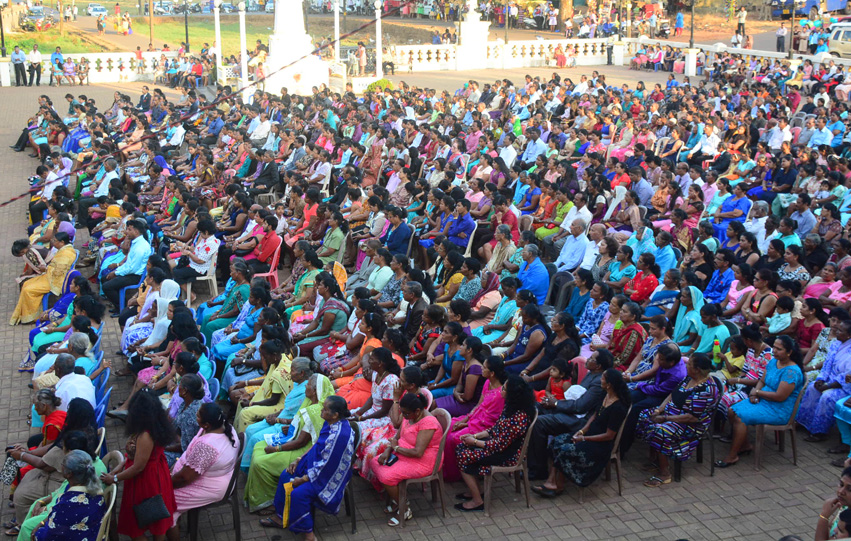 Featured Events
An exhibition, 'Dakshin Gangotri' is being organised to celebrate the 40 years of the first Indian Research station in Antarctica. The exhibition is on till December 15 at the Philatelic Bureau, Opposite the Head Post Office, Panaji.
Kala Academy Goa has invited entries for the 9th Tiatr competition in 'B' Group. The last date for submission of entries at Kala Academy is December 12.
A painting exhibition by Mohit Naik and Mohan Naik, along with Sarah and Yolanda Kammermeier is being organised on December 14 at Art Chamber, Galeria de Belas Artes, Calangute. Details: 9822160073.
The Botanical Society of Goa is organising the 32nd Annual Home Garden Competition. Participants can send photos of their home garden by December 15 on botanicalsocietyofgoa@gmail.com.
The Indo-Portuguese Friendship – Goa will present the Xmas Dine & Dance 2023 on December 15, 7.30 p.m. onwards with foot-tapping music by 'Sound of Music'.
Clube Harmonia De Margao is organising a Christmas market on December 21 from 4 p.m. to 10 p.m. Details: 2714818 / 9765134443.