Wan Hao-The Pan Asian Restaurant- at Goa Marriott Resort & Spa, Miramar, will be having a 'Bento Box- Pan Asian Feast'.  The Bento Box will be available for both lunch and dinner from 18th to 31st July 2019. It lets a person taste a variety of Asian dishes in one meal. The box comes with starters, main course items, and dessert. There is a satisfying amount of food served in it. However, if a person desires for more, Wan Hao lets you refill the box. Additionally, one can switch certain dishes in the box with other options. It is ideal for those who want a quick meal.
There are vegetarian and non-vegetarian Bento boxes. The vegetarian box comes with items like Kimchi, spring rolls/ dimsum, tofu in 5 spice sauce, soya basil noodles/ Thai fried rice, honey noodles with ice-cream, etc. The non-vegetarian box contains poultry and seafood dishes such as egg noodles/ Sang dong fried rice, kimchi, Kung bao chicken, chilly mustard fish/ prawn dimsum, chicken spring roll/ satay, and chocolate mud cake/ date pan cake. Each Bento box is accompanied by a cold beer or soft beverage. The price of the vegetarian Bento box is Rs.999 and the non-vegetarian box is Rs.1099 (not inclusive of taxes).
Pics Credit - Shivang Mishra I NT GOGOANOW.COM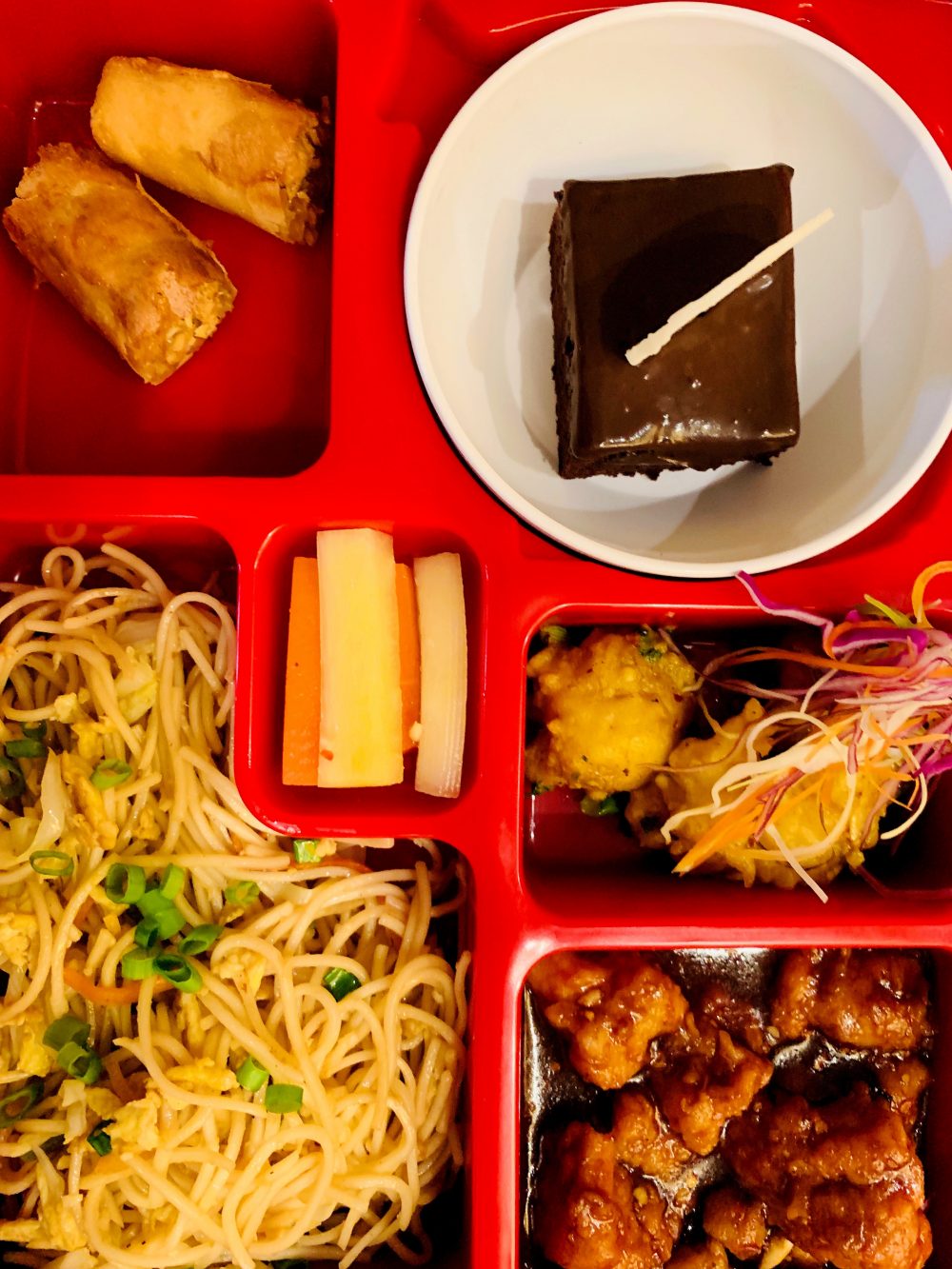 Featured Events
Planet Goem Studios in association with the Entertainment School of Goa (ESG) and The Mirror of Goa (MoG) is organising the 2nd Konkanni Flix Short Film Story contest. Submissions will be through email: konkanniflix@gmail.com on or before December 23. Details: 9022266537.
The Tarang Christmas Bazaar will be held from December 2 to 4 at the Don Bosco Oratory, Panaji. On December 2 the exhibition will be open from 1.30 p.m. to 9 p.m. and on December 3 and 4, from 10 a.m. to 9 p.m. Details: 9158063030
The fifth edition of GADDO – a pop-up bazaar, will be organised by Classy Eventz on December 1, 10 a.m. to 10 p.m. at Umiya Mercado Mall, Benaulim. Details: 8208324679.