Caldine is a Goan fish curry. The fish can be substituted with prawns or vegetables. The curry has a yellow hue and contains a moderate amount of spice. The traditional recipe given below uses pomfret.
Ingredients:
1 medium pomfret
½ coconut (scraped)
¼ tsp cumin
1 tsp turmeric powder
2-3 garlic flakes
 ½ inch ginger piece
1 medium onion (chopped)
2-3 green chillies (slit)
Salt to taste
Tamarind to taste
Coriander leaves (for garnishing)
Method:
Put the scraped coconut in boiling water. Pass it through a blender. When it cools down, strain the milk and keep it aside.
Add more warm water, cumin, turmeric, garlic, and ginger, to the coconut and pass through the blender again. Strain it and keep the thin juice obtained at the side.
Cut the fish into slices. Fry the slices if you want to.
Fry the onion. Then add the thick and thin coconut juices along with green chillies. When this is boiled, add the fish and cook till done.
Add the tamarind and salt to taste.
Garnish with coriander.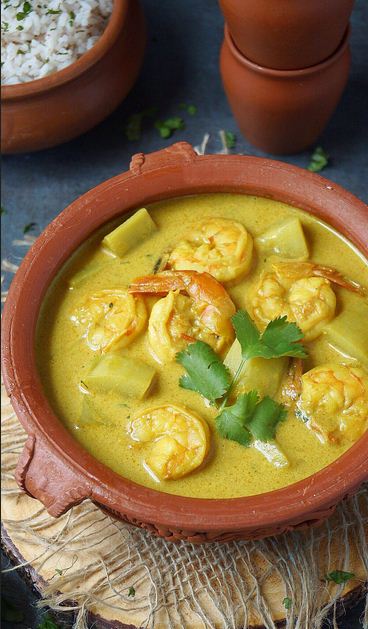 Featured Events
Goa Marriott Resort & Spa is hosting a Millet Food Festival to commemorate the International Year of Millets (IYM 2023). This festival features a selection of organic meals made with millets, the super grain, that have been hand-selected by executive chef Amit Dash and his team. The festival is on till March 31. Details: 8326656000/ 9967763776/ 7030040392.
Museum of Christian Art, Old Goa has organised an art exhibition 'Engraved Treasures-Part II' Contemporary Responses to 18th Century Prints from the MoCA Collection till April 30 from 10 a.m. to 4.30 p.m. Details: 8308805399.
The Cinephile Club is organising the screening of Japanese family drama, 'Our Little Sister' on March 30 from 6.30 p.m. onwards at Maquinez Palace, Old GMC Complex, Panaji.
PechaKucha Goa North Goa edition on the theme 'Beyond Stereotypes' that will feature presentations by women who dared to be different will be held on March 31, 7 p.m. onwards at Happy Soul by Autumn Leaf, Assagao. Details: 8788052757.
Indo Portuguese Friendship Society, Altinho, Panaji, is organising its annual traditional, Noite-Indo Portuguesa Dine and Dance on April 14, 7.30 p.m. at Coco Loco, Agacaim. Details: 9552596875/ 9822046004.