MYTHS ABOUT CORONAVIRUS
Cold weather and snow CANNOT kill the new coronavirus.
There is no reason to believe that cold weather can kill the new coronavirus or other diseases. The normal human body temperature remains around 36.5°C to 37°C, regardless of the external temperature or weather.
Taking a hot bath does not prevent the new coronavirus disease
Taking a hot bath will not prevent you from catching COVID-19. Your normal body temperature remains around 36.5°C to 37°C, regardless of the temperature of your bath or shower. Actually, taking a hot bath with extremely hot water can be harmful, as it can burn you. The best way to protect yourself against COVID-19 is by frequently cleaning your hands. By doing this you eliminate viruses that may be on your hands and avoid infection that could occur by then touching your eyes, mouth, and nose.
The new coronavirus cannot be transmitted through goods manufactured in China or any country reporting COVID-19 cases.
Even though the new coronavirus can stay on surfaces for a few hours or up to several days (depending on the type of surface), it is very unlikely that the virus will persist on a surface after being moved, traveled, and exposed to different conditions and temperatures. If you think a surface may be contaminated, use a disinfectant to clean it. After touching it, clean your hands with an alcohol-based hand rub or wash them with soap and water.
The new coronavirus CANNOT be transmitted through mosquito bites.
To date there has been no information or evidence to suggest that the new coronavirus could be transmitted by mosquitoes. The new coronavirus is a respiratory virus which spreads primarily through droplets generated when an infected person coughs or sneezes, or through droplets of saliva or discharge from the nose. To protect yourself, clean your hands frequently with an alcohol-based hand rub or wash them with soap and water. Also, avoid close contact with anyone who is coughing and sneezing.
Are hand dryers effective in killing the new coronavirus?
No. Hand dryers are not effective in killing the COVID-19. To protect yourself against the new coronavirus, you should frequently clean your hands with an alcohol-based hand rub or wash them with soap and water. Once your hands are cleaned, you should dry them thoroughly by using paper towels or a warm air dryer.
Can spraying alcohol or chlorine all over your body kill the new coronavirus?
No. Spraying alcohol or chlorine all over your body will not kill viruses that have already entered your body. Spraying such substances can be harmful to clothes or mucous membranes (that is eyes, mouth). Be aware that both alcohol and chlorine can be useful to disinfect surfaces, but they need to be used under appropriate recommendations.
Can pets at home spread the new coronavirus?
At present, there is no evidence that companion animals/pets such as dogs or cats can be infected with the new coronavirus. However, it is always a good idea to wash your hands with soap and water after contact with pets. This protects you against various common bacteria such as E.coli and Salmonella that can pass between pets and humans.
Do vaccines against pneumonia protect you against the new coronavirus?
No. Vaccines against pneumonia, such as pneumococcal vaccine and Haemophilus influenza type B (Hib) vaccine, do not provide protection against the new coronavirus.The virus is so new and different that it needs its own vaccine. Researchers are trying to develop a vaccine against COVID-19, and WHO is supporting their efforts. Although these vaccines are not effective against COVID-19, vaccination against respiratory illnesses is highly recommended to protect your health.
Can eating garlic help prevent infection with the new coronavirus?
Garlic is a healthy food that may have some anti-microbial properties. However, there is no evidence from the current outbreak that eating garlic has protected people from the new coronavirus.
Does the new coronavirus affect older people, or are younger people also susceptible?
People of all ages can be infected by the new coronavirus. Older people, and people with pre-existing medical conditions (such as asthma, diabetes, heart disease) appear to be more vulnerable to becoming severely ill with the virus. WHO advises people of all ages to take steps to protect themselves from the virus, for example by following good hand hygiene and good respiratory hygiene.
Are antibiotics effective in preventing and treating the new coronavirus?
No, antibiotics do not work against viruses, only bacteria. The new coronavirus is a virus and, therefore, antibiotics should not be used as a means of prevention or treatment. However, if you are hospitalized for the COVID-19, you may receive antibiotics because bacterial co-infection is possible.
Are there any specific medicines to prevent or treat the new coronavirus?
To date, there is no specific medicine recommended to prevent or treat the new coronavirus.However, those infected with the virus should receive appropriate care to relieve and treat symptoms, and those with severe illness should receive optimized supportive care. Some specific treatments are under investigation and will be tested through clinical trials. WHO is helping to accelerate research and development efforts with a range or partners.
BASIC PROTECTIVE MEASURES FOR ALL
a) Cover your mouth and nose with a bent elbow or tissue when you cough and sneeze.
b) If you have fever, cough, and difficulty in breathing, seek medical care at the earliest.
c) Prevent the spread of the infection by regular handwashing, covering mouth and nose while coughing and sneezing, and properly cook meat & eggs.
d) Maintain at least 1 meter (3 feet) distance between yourself and anyone who is coughing and sneezing. Wash your hand frequently to protect yourself and others from COVID-19.
e) See a doctor if you're feeling unwell. Cover your nose and mouth with a mask or cloth while visiting your doctor.
COMMON SIGNS OF CORONAVIRUS INFECTIONS
It includes respiratory symptoms, fever, cough, shortness of breath, and breathing difficulties. In more severe cases, the infection can cause pneumonia, severe acute respiratory syndrome, kidney failure, or even death.  It spreads through droplets from an infected and can enter through eyes, nose, and mouth, of a healthy person.  The virus can spread through saliva as the infected person handles things such as pens, train straps, doorknobs, digital devices, tissue paper, cups, stair banisters, mouse, lift buttons, chopsticks, etc.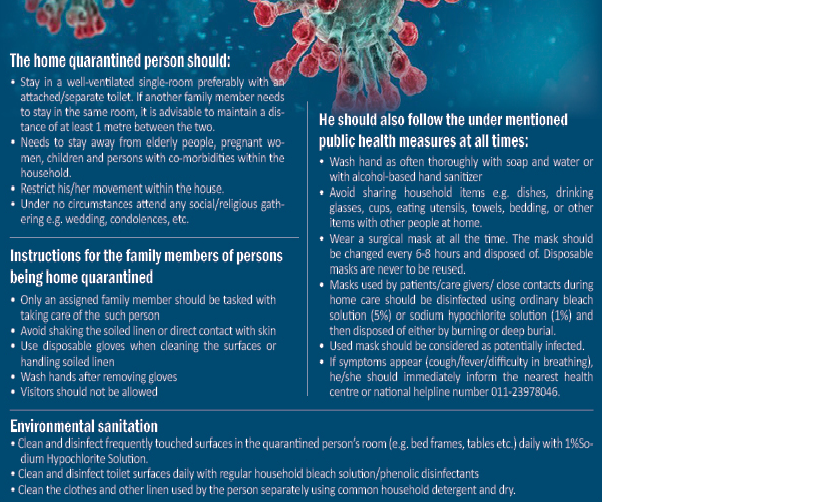 Featured Events
Goa Heritage Action Group is organising the Heritage Walk Festival from April 1 to April 16. It will include 25 heritage walks all around Goa led by resource persons who are renowned in their chosen fields of research and experience. Register: www.heritagewalkfest.com
A linocut workshop will be held on April 2, 11 a.m. at Carpe Diem, Majorda Participants will learn to use carving tools to create their own stamp designs in 'negative' design so that the positive impression can be used with ink as one's own personal customised stamp. Register by March 30. Details: 2881035/8888862462/info@carpediemgoa.com
Goa Science Centre, Miramar, will be organising a computer awareness programme for senior citizens and general public from April 3 to 8, 3 p.m. to 5 p.m. Limited seats. Entry on a first come first served basis. Nominal registration fees will be charged. Details: gscp.education@gmail.com.
Indo Portuguese Friendship Society, Altinho, Panaji, is organising its annual traditional, Noite-Indo Portuguesa Dine and Dance on April 14, 7.30 p.m. at Coco Loco, Agacaim. Details: 9552596875/ 9822046004.