For students, the new year actually begins in June. An academic year calls for new dreams, goals, and a lot more.
By: Aaron Furtado
As the calendar flips to the month of June, it brings a unique sense of anticipation and excitement. While it marks the beginning of monsoons here in Goa (delayed this time around), for students it often signifies a transition period and with it comes a wave of emotions, aspirations, and reflections.
June is the time when students get accustomed to new classrooms and textbooks, and eagerly embrace the promises of the future. It is a juncture where their perspectives, hopes, and dreams take centre stage.
For parents of kindergarteners, June brings mixed emotions. Navilla Fernandes, a parent of a kindergartener studying at Perpetual Convent High School says, "As June approaches, there are a lot of things going on in the mind of a kindergarten parent. I feel anxious as my little one will be leaving his cosy home to learn and socialise with other children of the same age. There are no specific activities as such that I make my child follow to get ready for kindergarten but I always keep some time to teach a few basics. I teach him rhymes, spend time colouring books, etc."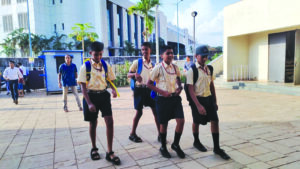 As a parent, Fernandes looks forward to the new things her son will learn. However, her main challenge as a parent is to wake him up and get him ready for school. "After the summer break, kids don't like to wake up early. My main concern about my child is his health, as it's the month of June and it's the rainy season."
Students from different classes have their own unique ideas about the month of June – from kindergarteners having to go to school for the very first time to Class 10 students not having the same leisure time they had in lower classes as they begin preparing way in advance for their board exams.
Delving deeper into how students perceive the month of June, Shaunak Naique, a Class 3 student at St. Francis School Duler, Mapusa, says, "When I think about June I feel sad as the holidays end and I am going to school again, but at the same time I felt excited about school reopening as I got a new bag and stationery. My aim for the new academic year is to study hard and get full marks in all the subjects. I also want to enjoy playing on the ground with my friends."
Sharvi Naik, a Class 3 student at Dr. K. B. Hedgewar High School, Cujira, St. Cruz, says, "I feel happy that I will get to meet and play with my friends again, sit together and have our tiffin. I love wearing my new raincoat during the rain and travelling by bus to school. I sit with my mom to cover my books, labelling each one of them and filling in the details on the labels. I get excited to know who my new class teacher will be."
Elisha Noronha, a Class 6 student at Perpetual Succour Convent High School Navelim, says, "I feel both excited as well as anxious when it comes to the new academic year. Excited because I will be sitting in a new classroom and will be taught by new teachers; and anxious because the exams will begin soon after in July and I will have to study for it."
She tells us that when it comes to preparing for school she starts arranging her bag, purchases books as per the list given in the school and covers them. "At the start of the academic year, I hope to be the topper of my class. I enjoy my summer break but also make sure I go through the textbooks of the next class."
Shanaida Rodrigues, a Class 6 student at Presentation Convent High School, Margao, expresses her joy at reuniting with friends and attending school events. She says, "I feel excited about the month of June as I get to go to school and make new friends. I also love attending various school events and gatherings which I missed during the summer vacation. I prepare for the new academic year by reducing my screen time and spending more time studying."
Allayna D'souza, a Class 8 student at Presentation Convent High School, Margao says, "It's a great feeling as I move forward to a higher level, a new classroom and meet a few new classmates and teachers. Also, it's a new level of studies and activities. I begin preparing way in advance for June — from study materials, my uniforms, rainwear, etc. I'm thrilled to begin with a new academic year as I am going to be back with my teachers, my friends, and new textbooks," she says. She does add that adjusting back to a routine of waking up early and having a schedule for studies and extracurricular activities will be a tough transition.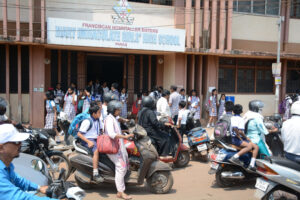 Class 10 is often surrounded by a significant amount of hype and importance. Known as a critical stage in a student's academic journey, here is where the foundation for future success is believed to be laid. The curriculum becomes more challenging, encompassing a wide range of subjects that deepen understanding and prepare students for higher-level studies.
Going beyond grades and exams, it serves as a turning point in a student's life. It is a time when individuals begin to shape their aspirations and make important decisions about their future academic streams.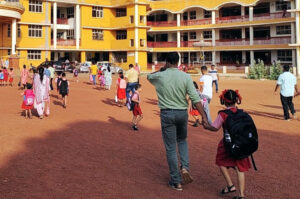 Vaila Menezes a Class 10 student at Perpetual Succour Convent High School, Navelim says, "Class 10 is a very challenging year. I prepare a timetable for myself in which I make sure that there is some time to play and do other things. It's not that we have to study for six to seven hours a day. What matters is the amount of concentration you have while studying. I have made my study routine of studying for two hours a day and I revise everything taught that day at night before sleeping."
She adds that the general notion among students is that being in Class 10 is extremely difficult due to the pressure and expectations set. "I think that this year is the same as the other previous years. You should believe in yourself, and always be positive. Classes have begun and everything is going well as we catch up with friends and studies."
Featured Events
An exhibition, 'Dakshin Gangotri' is being organised to celebrate the 40 years of the first Indian Research station in Antarctica. The exhibition is on till December 15 at the Philatelic Bureau, Opposite the Head Post Office, Panaji.
Kala Academy Goa has invited entries for the 9th Tiatr competition in 'B' Group. The last date for submission of entries at Kala Academy is December 12.
A painting exhibition by Mohit Naik and Mohan Naik, along with Sarah and Yolanda Kammermeier is being organised on December 14 at Art Chamber, Galeria de Belas Artes, Calangute. Details: 9822160073.
The Botanical Society of Goa is organising the 32nd Annual Home Garden Competition. Participants can send photos of their home garden by December 15 on botanicalsocietyofgoa@gmail.com.
The Indo-Portuguese Friendship – Goa will present the Xmas Dine & Dance 2023 on December 15, 7.30 p.m. onwards with foot-tapping music by 'Sound of Music'.
Clube Harmonia De Margao is organising a Christmas market on December 21 from 4 p.m. to 10 p.m. Details: 2714818 / 9765134443.