Charles Correa Foundation (CCF) in association with Corporation of The City of Panaji (CCP) will conduct a competition titled – Re-imagining Commercial Signage in Panaji on March 24 at Fundacao Oriente.
Signage being an integral part of the commercial setup has sometimes tinkered with the visual aspects of historic buildings by often creating a disproportion on the facades of such buildings. Since, Panaji has numerous historic buildings that are a part of the commercial setup and have also been the victims of asymmetrical signages, Charles Correa Foundation with an aim of examining the feasibility and ease of usage of the proposed guidelines have taken up this initiative which will give a character to the city.
While briefing the media, executive member of CCF, Amit Sukhtankar, said that this competition was a trial and error method as the 'Guidelines for commercial signage in Panaji' have already been submitted to the CCP and the output of this competition will lead those guidelines to be inducted or not-to-be inducted in the Trade and Occupation Bye-Laws of the city.
The competition will feature works from 8 teams which comprises of architects, graphic designers, town planning experts and one team will be representing Goa College of Architecture. The teams were given a work time frame from February 20 to March 20 to work on their signage in a selected area on M.G road after discussing with the concerned shop-owner.
Series of events at Fundacao Oriente on March 24
| | |
| --- | --- |
| Event | Time |
| Vote for People's choice award | 9.00 am – 4.30 pm |
| Panel Discussion | 2.30 pm – 4.00 pm |
(The work of these teams will be on display at Fundacao Oriente from March 24-March 25 and at Azad Maidan from March 30- March 31 from 10.00 am to 8.00 pm)
Pic Credit - Shivang Mishra I NT GOGOANOW.COM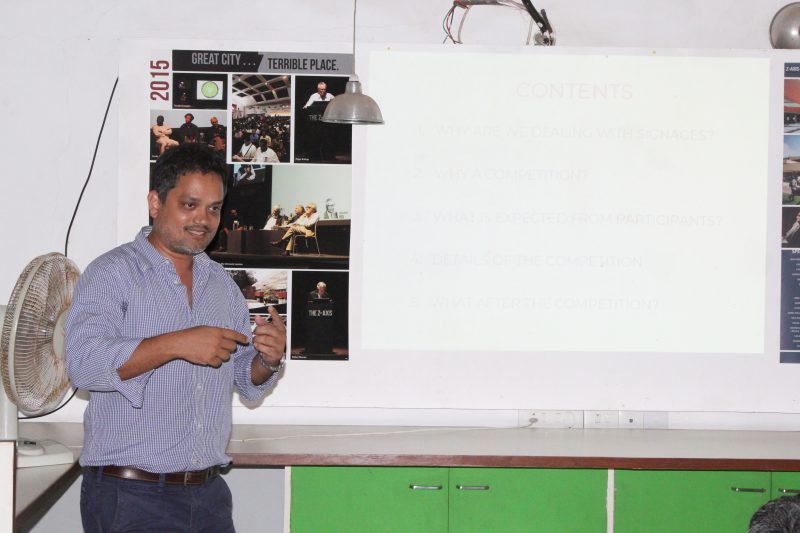 Featured Events
Francis De Sousa, Vasudev Shetye and Nandini Raikar will be exhibiting their art from September 12 till November 30, 11 a.m. to 7 p.m. at H No 386, Amblimoll, Guirdolim, Chandor. The exhibition is curated by private art dealer, Swetlana Cardoso. Details: 9822814957
''In Love… with Love'', a solo art exhibition by artist, Norman Tagore will be held on September 28 till October 31 at The Project Café, Assagao. The exhibition is curated by Samira Sheth and explores the universally powerful force of romantic love through love stories in watercolour and ink. Details: 9833714842.
A series of workshops by Sakib will be held at Saraya Art and Café starting on October 26 till October 29. 'The Natural Rangoli Colours workshop' will take place on October 26, 11 a.m. to 1 p.m. A newspaper wall clock workshop will take place on October 26, 5 p.m. to 7 p.m. Participants will learn to make clocks using old newspapers. Seed Balls Workshop – Learn how to make seed balls at a workshop on October 27, 5 p.m. to 7 p.m. Learn to use basic natural resources like neem leaves, multani mitti and a few more to create soaps that are not just natural but rejuvenating to the skin and body at a workshop on October 28, 11 a.m. to 1 p.m. A newspaper basket workshop will take place on October 28, 5 p.m. to 7 p.m. Learn to create natural mosquito repellents using resources such as coconut oil, peppermint oil, camphor and more on October 29, 11 a.m. to 1 p.m. Learn to make a wallet using newspapers at a workshop on October 29. 5 p.m. to 7 p.m. Details: 9908072960 / 8888926811
As part of it's Stormy Monday Blues' series, a film screening of the film 'Red, White and Blues' directed by Mike Figgis The event is organized by Desmond Nazareth and P D Mukherjee. Contact info: pro@incentgoa.com