Thousands of faithful from across the state thronged to the Monte de Boa Vista, Old Goa on February 23 for the annual feast of Cruz dos Milagres widely known as 'Khuris Milagr'.
The novenas in preparation of the feast had commenced on February 14, and the theme for the feast was, 'Kristacho Khuris Devik Mogachi Zhor' (Christ's Cross: A Spring of Love).
The day also marked the 399th anniversary of the apparition of Jesus Christ on February 23, 1619, on a three-and-a-half-feet cross which was erected at the site. The apparition saw red flags miraculously flying above Boa Vista Hill. There were rays of bright light were seen emanating from the sky and falling on the cross. Later on a crucified figure was also seen on the cross with his body covered was with wounds. At that point of time the cross which was three and half feet tall grew to approximately six feet. The news of the miraculous incident drew many including the sick, who were healed. Later, on March 5 1619, a water-spring also gushed out at the barren rocky site and more miraculous healings took place.
A few months later, the then Archbishop of Goa, Cristavo de Sa e Lisboa appointed a committee to study these phenomena. Once the investigations were done the committee came to a unanimous decision that the events that occurred were true and the healings were of supernatural order.
The feast mass this year, was celebrated by 15 priests, including the vicar of the Cruz dos Milagres church, Fr Alfred Vaz – the main celebrant of the mass. In his homily Fr Vaz narrated the historical events that took place on the hillock four centuries ago. He also urged the people to build their life on the principles of God's love.
AUSTIN DIAS | NT GoGoaNow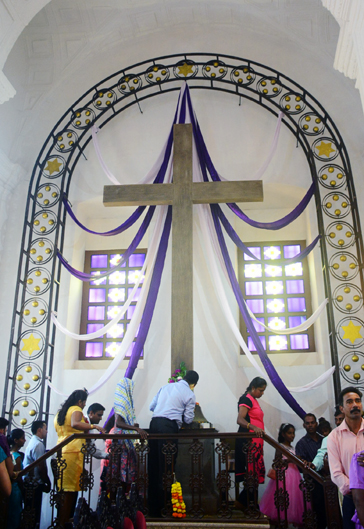 Featured Events
As part of the movement to protect Mollem National Park and Bhagwan Mahavir Wildlife Sanctuary, a creative writing and drawing contest will be held. The contests are open to Goan students studying in higher secondary schools and colleges in Goa as well as outside the state. The topics for the creative writing competition are 'A conversation between the trees of Mollem and humans'; 'Amche Mollem: What I can do as a young citizen to save it', and 'A letter to the Environment Minister telling him why Mollem is irreplaceable for Goa'. Entries for the creative writing contest should be submitted to savemollemcreatwrite@gmail.com. Winner of the first place will be awarded a cash prize of `10000; Winner of the second place will be awarded a cash prize of `8000; winner of the third place will be awarded a cash prize of `6000. The topics for the drawing competition are: 'Magic Mollem'; 'Mollem our Superhero'; 'The Enchanting Laboratory of Mollem'; 'Eyes of Mollem'; and 'Mollem, a place of peace'. In the primary school category (class 1 to class 4), winner of the first place will be awarded a cash prize of `7000; winner of the second place will be awarded a cash […]
A kitchen and home gardening course will be held from August 8 to August 16. There will be three batches and two languages. The resource people for the workshop are Sunil G, Aarti R, Pushpa S, and Arun Singh R. Details: 9373238440/ 9867376265/ 9765392969
Goa Science Centre & Planetarium is organising 'Spark your mind' an online workshop with exciting hands-on science activities on August 19, 3 p.m. to 4 p.m. The workshop is open to students of class 5 to class 7 and will contain fun and engaging activities through which children can learn the basic concept of science. Fee: `100. The last date of registration is August 14 before 3 p.m. Limited seats. Details: https://forms.gle/MJh7whBUq8TYmNsj8