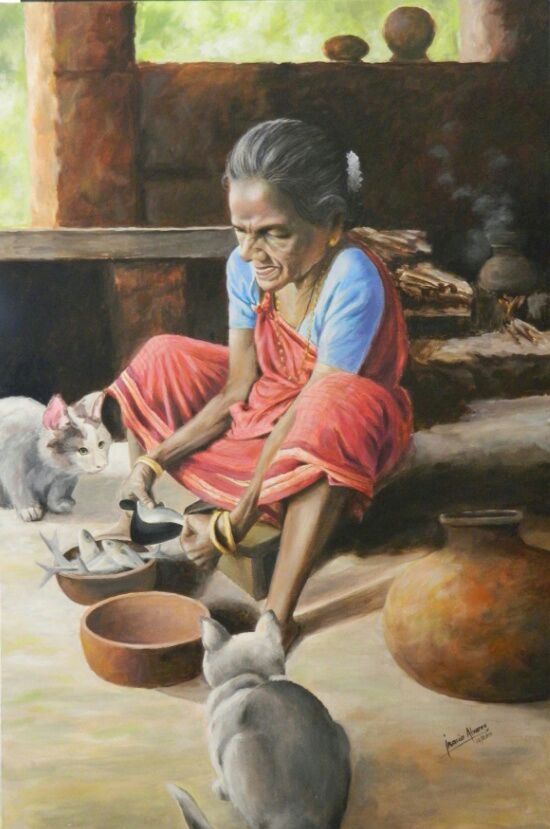 Hailing from different parts of Goa, three artists – Inacio Alvares, Joseph Febian Franco and Arnesto Borges – have come together to exhibit their artwork at Kala Academy. What is different about this exhibition is that each artist has used a different medium and technique to express various elements of everyday life.
Inacio who has been painting for last 20 years, has tried to focus on stories of Goa for this exhibition. He felt a need to preserve or conserve the various cultural aspects of Goa that are slowly fading away. "Earlier in Goa you would notice people using stone grinders to grind the masalas but today with the mixer and other electronic gadgets have replaced them. Similarly, you cannot find many toddy tappers and this has made me wonder if the coming generation would know about these things. As an attempt to conserve these cultural aspects through the medium of painting I have themed my artwork on the traditions of Goa," says Inacio who has about 14 paintings up at the exhibition.
Calangute-based Joseph has over the years been practicing etching. Speaking about this technique he says: "It's not easy to do etching. You require a proper studio and the right kind of paints and equipments. The department of Art and Culture has given a studio for artists which they can utilise for their work. For many years I have been working with themes like nature, animal etc but this time I thought of exploring what's underwater. You will find underwater stories portrayed through the medium of print making at the exhibition."
On the other hand, doing away with the usual canvas, Arnesto has given a pebble a new life, as seen at the exhibition. "Yes! I have used the pebble as my canvas. Pebble art is not very popular in Goa. I thought of this art when I used to go by the river side and see the pebbles in various shapes and sizes; and realised they made perfect surfaces to draw a landscape. After I was successful at one try, I realised that there was so much one can do with pebbles," says graphic designer by profession, Arnesto. The stone art is his own initiative and he intends to give paintings a new look from a different perspective.
The three artists have through their individual styles, brought out everyday sights and things that we generally take for granted, and immortalised them in their art. To catch a glimpse of the lifestyles that are fading away, head to the Kala Academy's Art Gallery.
(The inauguration will at 4.30 p.m. at the hands of deputy speaker of Goa legislative Assembly, Michael Lobo and will be open for the public viewing from January 25 to January 28 from 10 a.m. to 7 p.m. at Kala Academy, Panaji.)
Extracted from The Navhind Times Buzz
Pic Credits- Hemant Parab
Featured Events
A creative collage of 3681 left-handers handprints from the world over will be displayed at the Big Foot Tiatra Hall of Fame, Loutolim by Maendra Alvares. The collage is open for public viewing till August 25, from 9 a.m. to 5:30 p.m.
Fundação Oriente will host 'Deciphering Layers – New Perspectives on the Viceroys Portraits at Old Goa' on August 22, 6 p.m. at the premises in Panaji. Details: 2230728. Under the umbrella of the research project Old Goa Revelations, a multidisciplinary team of experts has been decoding layers of paint and history present in the Viceroys portraits presently exhibit in Old Goa. For the first time in 4 centuries, we are starting to unravel some of its many mysteries, joining the pieces of the puzzle and discovering new perspectives on the fascinating collection. This communication will discuss the latest findings in the Historical Archives Of Goa, regarding the history of the Viceroys Palaces and collection of portraits and also how these newly found facts correlate with the different paint layers already identified in the paintings from the 16th and 17th centuries. TERESA TEVES REIS is a conservator-restorer (MA) by Instituto Politécnico de Tomar (with curricular training at MOCA-Museum of Christian Art), Master in conservation and restoration of easel painting by Universidade Católica and currently a PhD student in Fine-Arts, in the Faculdade de Belas-Artes, from Universidade de Lisboa, supported by the doctoral scholarship HERITAS- Heritage Studies. The theme of her […]
A fondant figurine class with Mumbai-based artist Gauri Kekre will be held on August 23, 10 a.m. to 5 p.m. Hands-on training on the christening cake figurines, etc and certificates will be provided. Details: 8999778720/fbacademygoa@gmail.com.
As part of its 'Kitaab: Books in Discussion' series, ICG will host the book discussion of 'The Lost Decade 2008 – 2018' by journalist Puja Mehra, on August 23, 11 a.m. to 12:30 p.m. at The International Centre Goa, Dona Paula. Entry is free and open to all.
The Heritage Eco-Club of St Francis Xavier's School, Siolim is organising its annual festival of plants and flowers on from August 24 to August 26, 9 a.m. to 6:30 p.m. at St Francis Xavier's School, Siolim. Entry is free and open to all. Details: 9326102797/2272245.