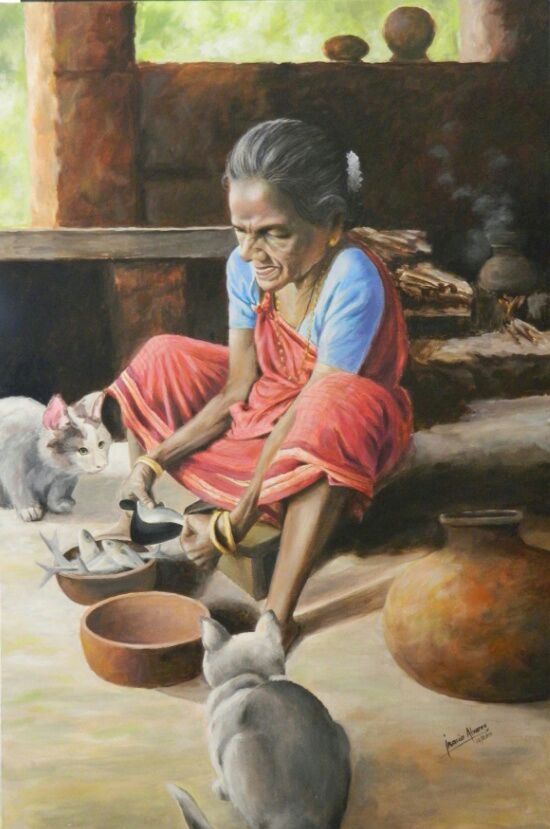 Hailing from different parts of Goa, three artists – Inacio Alvares, Joseph Febian Franco and Arnesto Borges – have come together to exhibit their artwork at Kala Academy. What is different about this exhibition is that each artist has used a different medium and technique to express various elements of everyday life.
Inacio who has been painting for last 20 years, has tried to focus on stories of Goa for this exhibition. He felt a need to preserve or conserve the various cultural aspects of Goa that are slowly fading away. "Earlier in Goa you would notice people using stone grinders to grind the masalas but today with the mixer and other electronic gadgets have replaced them. Similarly, you cannot find many toddy tappers and this has made me wonder if the coming generation would know about these things. As an attempt to conserve these cultural aspects through the medium of painting I have themed my artwork on the traditions of Goa," says Inacio who has about 14 paintings up at the exhibition.
Calangute-based Joseph has over the years been practicing etching. Speaking about this technique he says: "It's not easy to do etching. You require a proper studio and the right kind of paints and equipments. The department of Art and Culture has given a studio for artists which they can utilise for their work. For many years I have been working with themes like nature, animal etc but this time I thought of exploring what's underwater. You will find underwater stories portrayed through the medium of print making at the exhibition."
On the other hand, doing away with the usual canvas, Arnesto has given a pebble a new life, as seen at the exhibition. "Yes! I have used the pebble as my canvas. Pebble art is not very popular in Goa. I thought of this art when I used to go by the river side and see the pebbles in various shapes and sizes; and realised they made perfect surfaces to draw a landscape. After I was successful at one try, I realised that there was so much one can do with pebbles," says graphic designer by profession, Arnesto. The stone art is his own initiative and he intends to give paintings a new look from a different perspective.
The three artists have through their individual styles, brought out everyday sights and things that we generally take for granted, and immortalised them in their art. To catch a glimpse of the lifestyles that are fading away, head to the Kala Academy's Art Gallery.
(The inauguration will at 4.30 p.m. at the hands of deputy speaker of Goa legislative Assembly, Michael Lobo and will be open for the public viewing from January 25 to January 28 from 10 a.m. to 7 p.m. at Kala Academy, Panaji.)
Extracted from The Navhind Times Buzz
Pic Credits- Hemant Parab
Featured Events
'Mask UnMask', an art exhibition by Querozito de Souza is on till February 24 at Cube Gallery, Moira. Details: 9422806748.
MOG will be hosting  Phoenix– a collaborative installation/display at MOG by eminent artists Genie Poretzky Lee, Sweety Joshi and Sanjay Sawant from 8 to 28, February 2019. Join us for the inauguration of the exhibition on 8 Feb, 2019 at 6:00 pm at Museum of Goa. The artists Genie Poretzky Lee, Sweety Joshi and Sanjay Sawant would be present along with the Director of Museum of Goa, Dr Subodh Kerkar for the opening of the exhibition.
MOG is glad to announce the hosting of Evolving/Eroding – a collaborative exhibition/display by Indian and Danish Art Photographers: Amit Sheokand, Akshay Mahajan, Jagrut Raval, Miriam Nielsen, Jenny Nordquist and Louise Bøgelund Saugmann from 15 to 28, February 2019. Join them for the inauguration of the exhibition at 6:30 pm on 15 Feb, 2019 at Museum of Goa. The opening will be marked by the presence of Thomas Sehested, Director of The Danish Cultural Institute in India; who will give the inaugural address. The artists Amit Sheokand (I), Akshay Mahajan (I), Miriam Nielsen (DK), Jenny Nordquist (DK) and Louise Bøgelund Saugmann (DK) would be present along with the Director of Museum of Goa, Dr. Subodh Kerkar for the opening of the exhibition.
Sunaparanta – Goa Centre for the Arts is delighted to present AMITRI (Austria) featuring Marialena Fernandes (Austria) on Piano; Ieva Pranskute (Lithuania) on Violin; Amina Vamosi (Hungary) on Flute on Saturday, 16th February 2019 at 6:30 pm. The all-women trio will play compositions of Clara Schumann, Moritz Moszkowski, W.A. Mozart, C. Saint-Saëns, J. Brahms, Ehsan E. Shanjani and others. Since 2015, Fernandes has initiated a project called 'The Quest for Passion' which takes place annually in India, in which she incorporates musicians from Europe and India in dialogue and interaction with each other, but also involving talented youth discussing diverse artistic themes. In addition, the Trio will conduct a session on 'Understanding Chamber Music' for musicians on 19th February, 5 pm at Sunaparanta. Free and open to all.
There will be a presentation and walkthrough by artists Louise Bogelund Saugmann & Akshay Mahajan, 17 of Feb 2019 from 11:30 am – 12:30 pm at Museum of Goa, Pilerne Industrial Estate, Pilerne, Bardez, Goa. Akshay Mahajan is a photographer, based out of Goa. His art focuses on social documentary, driven by research led self-initiated projects that combine his interest in myth, folklore and photography as a mirror to culture and collective memory. His work has been exhibited internationally in cities like Zagreb, Newcastle, Riga, London, New Delhi, Paris and New York and is held in private collections. Louise Bogelund Saugmann is an artist based in Denmark working with photography. It is the slow immersion of the subject and an investigation of the photograph as a medium, which is of interest to her. Her work has been exhibited at various museums, galleries and festivals in Europe, such as Museum of art in public spaces (Dk), Hippolyte Photographic Gallery (Fi) and Landskrona Foto Festival (Se). It is the first time her work is shown in India. From different personal approaches, Akshay Mahajan and Louise Bogelund Saugmann have used photography to explore the concept of nature, taking Goa/India as a starting point in their works, Elder Flower and One frame infinite which […]
The State Art Exhibition of Kala Academy in the Student Category will be held between 25th Feb to 1 st March 2019 at the Art Gallery, Kala Academy Complex, Panaji. Entry forms along with the rules and regulations will be available at the Kala Academy's office during working hours from 12th Feb. 2019. The entries along with the exhibits will be accepted on 20th &  21 st February 2019 between 10:00 a.m. to 4:00 p.m. in the office of Kala Academy, Campal, Panaji, excluding the lunch break i.e. from 1:15 p.m. to 2:00 p.m.