Your vacation seems perfect… but something seems incomplete. Your beloved pet is at home missing you. What is the solution? Pet-friendly hotels in Goa! Here are some of them:
The Singing Tree by Nirvana
Your pets and you will have a blast at this place. They have a terrace area where you can enjoy Goa's breathtaking sunsets. Feel closer to the outside world with their garden and outdoor swimming pool. Children can enjoy kid-friendly buffets, children's television networks, board games, and more. Other facilities include daily Continental breakfasts, free parking, etc.
Website: https://nirvanahotels.in/the-singing-tree-goa/
Location: Anjuna
Map Link: https://bit.ly/3NYRKjv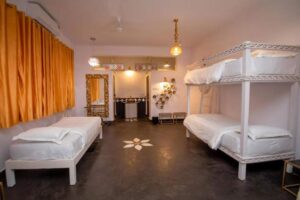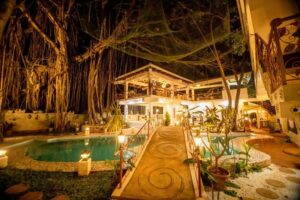 Goa Marriott Resort & Spa
Waking up in luxury, getting to sightsee Goa's capital city, and having the view of the beautiful Miramar beach… what could be better? Here you can relax and enjoy the outdoors in a hammock, get pampered at their luxury spa, swim in an outdoor pool, or just have a beach getaway!
The Resort also has a spacious yet cozy coffee shop and other restaurants with grills, cocktails, and many international dishes. Pets are welcome here – 1 pet (max 30 kgs) in Garden View Patio rooms only with a non-repaid fee of Rs.2000 per day approximately.
Website: https://bit.ly/3mon5QG
Location: Miramar
Map Link: https://bit.ly/3J942Tu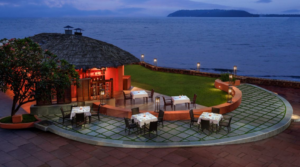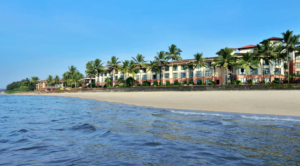 Agonda Shell Beach Resort – Canacona
One – this place is near the pristine Agonda Beach. Two – Their beach huts are eco-friendly. Three – the rustic, romantic vibe here is beyond charming. They have a total of 19 huts which has a balcony, bedroom, and attached bathroom which is semi-open-air. Their garden cottages are roomy and are built with natural materials like wood and the roofs are made out of Mangalore tiles. Have a guilt-free vacation frolicking with your pet on the beach.
Website: https://agondashell.com/ 
Location: Agonda
Map Link: https://bit.ly/3M1qmil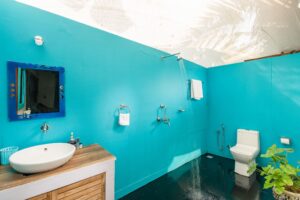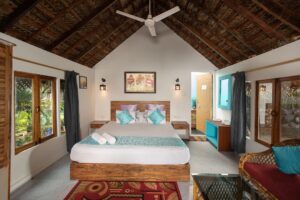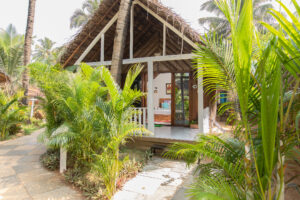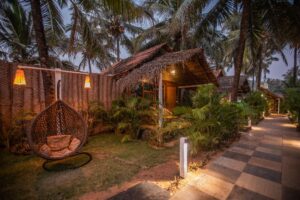 ITC Grand
The best thing about this place is…well…everything. Tucked away in an immaculate location in South Goa, this luxury resort is the epitome of a relaxing vacation getaway. It is just a hop, skip, and jump away from the beautiful Arossim beach. A spa and 6 outlets with signature food from Goa and across the globe are also available. And yes, the best part is that you can bring your pets along!
Website: https://www.itchotels.com/
Location: Arossim
Map Link: https://bit.ly/42PALo0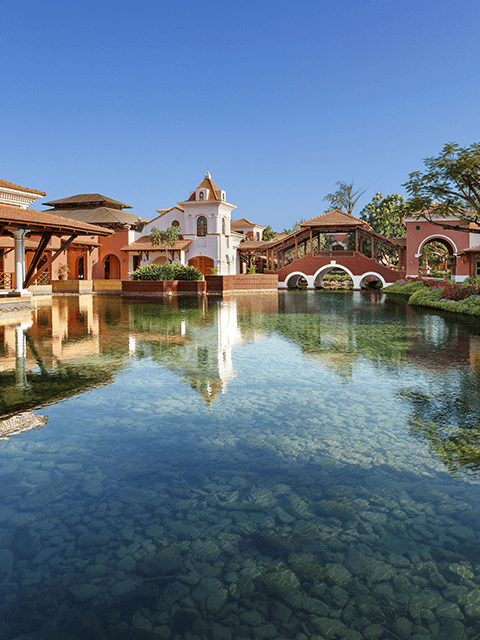 W Goa
It doesn't get any better than being a stone's throw away from the famous, enchanting, Vagator Beach while experiencing luxury at its finest. The outdoor pool, delicious Pan-Asian food, villa-style suites, and gorgeous views of the sea will make for one unforgettable vacation. Cats and dogs are allowed (2 per room). The pet has to weigh 33 lbs maximum. No fees are charged for service animals.
Yes, this property allows cats and dogs (limit 2 per room) with a maximum weight of up to 33 lb per pet. There's a deposit of INR 5000 per night and a fee of INR 7000 per pet, per stay approximately. Service animals are exempt from fees. (Please verify with the hotel for any updates)
Website: W Goa
Location: Vagator
Map Link: https://bit.ly/3I6PtyR