Edition III of the Goan Woman Chef of the Year was held on Saturday, August 17 at Taj Exotica Resort and Spa, Benaulim. The culinary competition which has been growing in popularity and number of participants, was organised by The Navhind Times in collaboration with IHCL Goa.
Designed exclusively for women, the competition was conceptualised with the objective to appreciate gastronomic talents of Goan ladies from all walks of life irrespective of caste, creed, race or religion while inculcating a spirit of healthy competition and a passion for creativity; in addition to promoting culinary passion, taste for excellence and bringing to the fore some traditional recipes that have been handed down through generations. The minimum age to apply was 18 and it was heartening to see several 18 year olds participating with gusto. Senior ladies too in their 60s and 70s participated with equal enthusiasm. More than 30% of the participants were in fact in the age group of 50 years and above. The senior-most participant was 79-year old Aninha de Noronha, who will soon be celebrating her 80th birthday.
Registration commenced at 8.30 a.m, and the buzz and excitement as the contestants arrived and registered was palpable. Hundred ladies from across the state participated enthusiastically with each dish planned, prepared and presented creatively and meticulously.
Every contestant was allotted a spot in the hall to present her dish with ample time for presentation. Keeping in mind the large number of Muslim women and their unique cuisine, this year another category was added for contestants to choose from and also to motivate Muslim ladies to participate. The dishes which were prepared at home by the contestants thus spanned not just Saraswat, Goan and Portuguese cuisine but Goan Muslim cuisine as well. Kokum tart with jackfruit mousse, poss, Banguley ki Fakki, Natas do Ceu, Killache tonak ani adsarache pole and pise were some of the mouth-watering dishes on display.
Participant's creativity came shining through not just in the preparation of their dishes but also in the garnishes used and presentation. Traditional Goan crockery, spoons, plants, and flowers were used for highlighting the dishes and the cuisines. The tables laden with food and amazing props were a feast for the eyes as well as the palette. Keeping in mind the increased number of dishes and participants this year, the number of judges too were increased and the 8 judges included, proprietor of Mum's Kitchen restaurant in Miramar, Suzie Martins; director of Kamat Construction Private Limited and author of the book 'Mom's Recipes', Smita Uday Kamat; Managing Director, Event Bazaar and secretary, Goa Culinary Club, Sunita Rodrigues;  popular TV actor, writer and one of the eminent Goan Master Chefs, Amita Salatry; proprietor of Foxes Fiesta a well-known restaurant in Calangute and a chef by profession, Alka D'Souza; specialists in Muslim cuisine, Sana Rizvi and Shagufta Amin; along with Mayuri Narvekar.
The competition was neck-to-neck and the judges had a tough time deciding the winners.   "The dishes were painstakingly made and garnished. Some even had accompaniments! The effort and time taken to prepare and present the dishes were clearly evident. The dishes were well-balanced and cooked to perfection," said Alka D'Souza. The tasting was divided amongst the judges and each tasted about 15 dishes grading on presentation, taste and innovation. Out of the total dishes, twenty-eight dishes were shortlisted for the semi-final to ensure fair judging. The twenty-eight dishes shortlisted were judged by all the 8 judges before selecting the winners.
From the twenty-eight short-listed dishes, the judges selected fourteen finalists, two in each category for the Goan and Portuguese cuisine and 3 in the Goan Muslim and Goan Saraswat cuisine. The overall prize for excellence was 'The Goan Woman Chef of the Year'. The prize winners were as follows:
Goan cuisine – Main course
Winner – Sheryl Fernandes for Beef Involtino
Runner-up - Sita Rebello for Sorpotel
Goan cuisine – Dessert course
Winner – Soumya Nayak for Patoli
Runner-up  - Amruta Shirodkar for Exotic puffed rice
Portuguese cuisine – Main course
Winner – Cheryl Pinto for Bacalhau de Nates
Runner-up   - Pushpalata Fernandes for Empade de Carne
Portuguese cuisine – Dessert course
Winner – Helga Motha for Pasteis de Nate
Runner-up - Sarita Fernandes for Bolo de Laranja
Goan Saraswat cuisine
Winner – Shobha Kamat for Ambade sangho ghalun sungta hooman
1st Runner-up    - Rucha Gharse for Thandai payas
2nd Runner-up    - Priyanka Talaulikar for Prawn capsicum sasav
Goan Muslim cuisine
Winner _ Shabnam Khan for Prawn biryani
1st Runner-up – Masrat Wahab for Murgh biryani
2nd Runner-up   - Kausar Rikarty for Chicken dum biryani
The overall winner for excellence was Shobha Kamat. "Her hooman was excellent; the flavours were perfectly balanced and the taste extremely authentic," said Smita Kamat, one of the judges.
Exciting prizes were given to the winners and the prizes were as follows:
Winners – Meal voucher for a couple at a specialty restaurant at the IHCL hotels in Goa, a recipe book by Smita Uday Kamat, Exotica gift hamper, a gold medal, a trophy and certificate
Runner-up:  Meal voucher for a couple at a multi-cuisine restaurant at the IHCL hotels in Goa, a recipe book by Smita Uday Kamat, Exotica gift hamper, a silver medal and certificate
Overall winner: Awarded with a specially designed monogrammed apron, a night's stay at Taj Exotica Resort and Spa for a couple, a plaque and certificate
Speaking on the occasion area director IHCL Goa and general manager Taj Exotic Resort and Spa, Goa, Vincent Ramos, spoke about the essence of a woman and why The Goan Woman Chef of the Year was a testimony to that very essence and the various roles she plays. He congratulated each and every participant for showcasing their talent and travelling from across Goa and bringing forth authentic flavours. "Gender Diversity and Women Empowerment are some of the core cultures that define IHCL. It expresses the way we work in which women elaborate and re-create what it is they can be, do and accomplish. It also inculcates us to focus on gender equality, a greater awareness of discrimination and a celebration of women's achievements, " he added.
After the competition, the participants along with their family members were treated to a sumptuous buffet lunch. 
Excellence was the keyword in the successful collaboration between The Navhind Times and IHCL Goa and it promises to only get better every year.
 Maria Fernandes | NT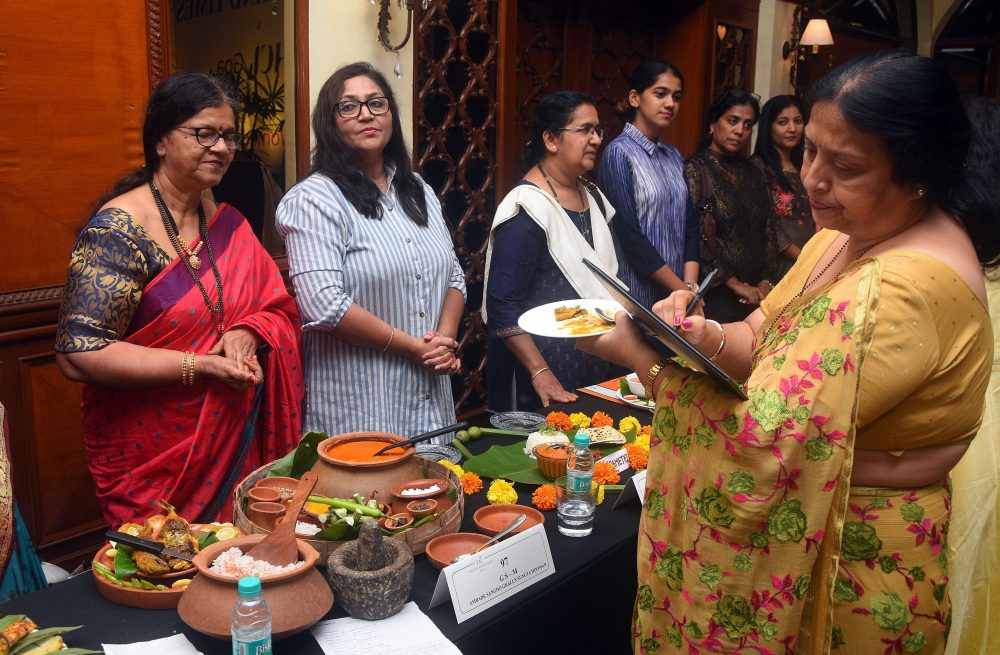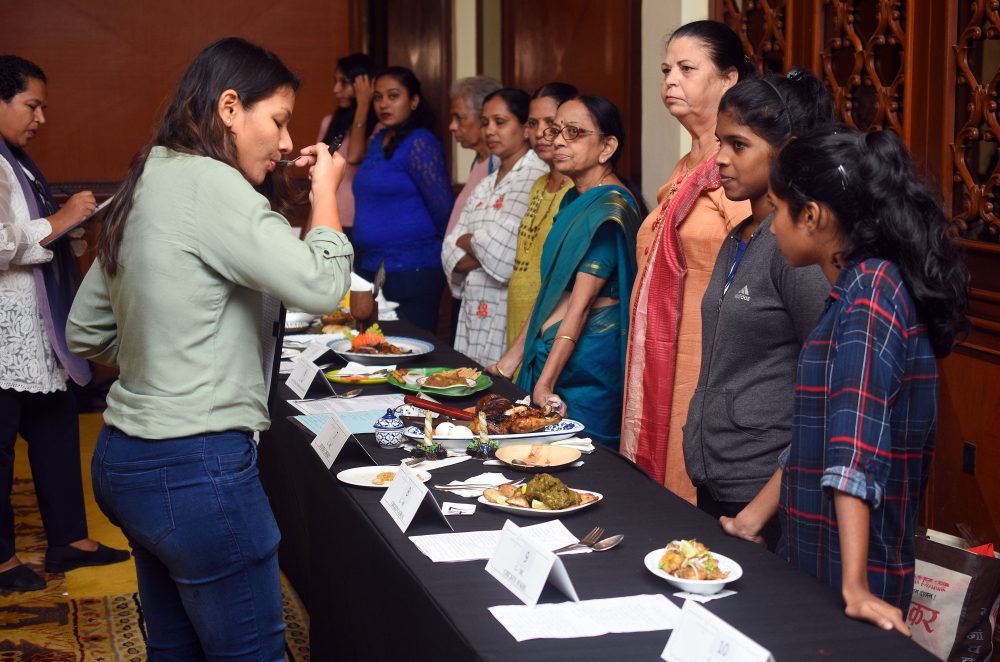 Featured Events
A Catholic men's conference will be held on February 5, 4.30 p.m. to 8 p.m. at the Carmelite Monastery, Margao. This event, which is inclusive of Sunday Mass is exclusively for men 21 years and above to deepen their relationship with Christ, enhance their personal, family and social commitments, and become aware of the Christian lay apostolate. The speakers at the conference will be Fr. Mario Fernandes, OCD and Fr. Alvito Fernandes, OCD. Details: 2735052/8050573532.
Thomas Stephens Konknni Kendr will be conducting a Konkani course from February 7 to March 9, 10 a.m to 12.30 p.m. from Monday to Friday at its premises at B.B. Borkar Road, Porvorim. Details: 2415857/ 2415864.
Goa Book Fair will be held from February 9 – 13 at Ravindra Bhavan, Margao.
The Mahalo Ukulele festival will be held on February 18 and 19 at Saraya Goa. Details: +971502460101.