The 2020 World Peace Music Festival 'Sur Jahan' starts today. Here are some details on what one can expect at this festival. This event is all about celebrating the uniqueness and differences in cultures. The line-up of performers is Dalinda (Hungarian folk melodies), Radiant Arcadia (all women Denmark band), Godfather of Nordic music 'Ale Moller', South Korean band-Coreyah and the well-known Reunion Island singer, Danyèl Waro.
About the performers:
Radiant Arcadia (Denmark)
The band was brought together by Annette Bellaoui, who wanted to display the skills of women musicians, and the ability to work together with different traditions, languages and nationalities. The band members are from different religious backgrounds and traditions which can be seen in their Nordic and Celtic folk music, jazz, rock, Klezmer and Middle Eastern ballads.
The band includes Tine Vitskov in clarinet and bass clarinet, Maren Hallberg in accordion, Anne Eltard in violin, Salam Susu in harp and vocals, Karen Jorgensen and Channe Nussbaum in vocals, Aoife Scott in vocals and bodhran (Irish hand drum) and Radia Sanchez in vocals and daff.
Ale Moller and Ensemble (Sweden)
Ale Moller is a professional in Swedish folk music. This version of his band will have Ale Möller himself on various instruments like mandola, flutes, cows horn, clarino and harmonica, along with singers - Mamadou Sene from West Africa, and Greek singer/dancer Maria Stellas.
Anna Moller, a fiddle player, Olle Linder, percussionist, and Johan Graden, pianist/composer, will be joining in too.
Coreyah (South Korea)
The Coreyah band uses traditional Korean instruments such as Daegeum, Sogeum, Tungso, Geomungo and traditional Korean drums. One member is a vocalist, one a guitarist and one a percussionist. Their music is a combination of traditional and contemporary music.
Danyel Waro (Reunion Islands)
Danyel Waro's music is acoustic Maloya. He is known to sing Creole. He has also crafted his own musical instruments - the Kayanm (a flat instrument made from cane flowers' stems filled with wild saffron seeds),  the Bobre (made of a cord suspended on a bow with a calabash as a resonance chamber and the Rouler – a large drum made from a rum barrel over which is stretched a cow-skin.
Dalinda (Hungary)
Dalinda is an A'capella band, which means that they sing without musical accompaniments. They perform traditional tunes of Hungarian folk music. Recently, They started going beyond A'capella to involve instrumentals as well. Therefore, they will be accompanied by instrumental performers - Balint Konczei, Daniel Szabo and Attila Gyorgy Kaszap.
Mangniyars of Rajasthan (India)
Manganiyars sing Rajasthani folk songs, Marwar Lok geet and Sufiyana Kalam. Thane khan, Manjur khan,  Samsu khan, Bhage khan, Kalyan khan and  Tarif khan are the artists.
Bauls of Bengal (India)
Baul music is around 500 years old. Debalina Bhowmick of Kolkata will lead the team and will be accompanied by Mallika Akar, Chhote Golam and Nemai Khyapa of Murshidabad. They will be joined by Elvis Lobo in Guitar, Carlos Gonsalves in Percussions (from Goa), Arpan Thakur Chakraborty in Dotara, Khokan Das in Dhol, Mohan Tati in Flute(from West Bengal).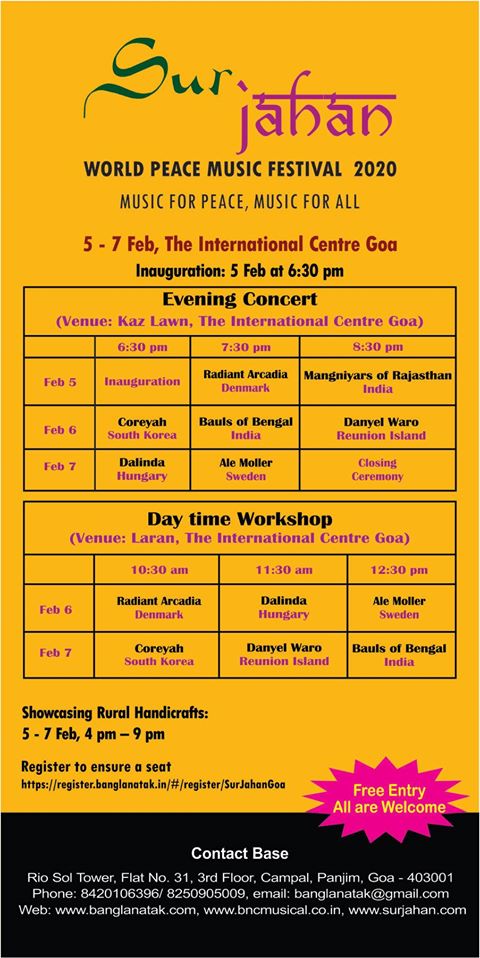 Featured Events
Events Pro | Info: There are no events created, add some please.