Chaitra Purnima 2022 was celebrated after a gap of two years under a new committee headed by Damodar B Bhatkar at Shree Saunsthan Nagesh Maharudra, Ponda. A Shibikotsav, a Sangeet drama and procession with different Asananad and Lalkhi was also held. The programme concluded
with a Maha Ratotsav.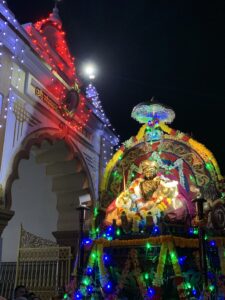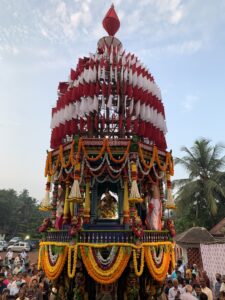 Featured Events
Planet Goem Studios in association with the Entertainment School of Goa (ESG) and The Mirror of Goa (MoG) is organising the 2nd Konkanni Flix Short Film Story contest. Submissions will be through email: konkanniflix@gmail.com on or before December 23. Details: 9022266537.
The Tarang Christmas Bazaar will be held from December 2 to 4 at the Don Bosco Oratory, Panaji. On December 2 the exhibition will be open from 1.30 p.m. to 9 p.m. and on December 3 and 4, from 10 a.m. to 9 p.m. Details: 9158063030
The fifth edition of GADDO – a pop-up bazaar, will be organised by Classy Eventz on December 1, 10 a.m. to 10 p.m. at Umiya Mercado Mall, Benaulim. Details: 8208324679.