On Sunday, 19th January, at Saraya Eco-stay, Sangolda, there will be a different type of music event- the Mahalo Ukelele Festival. Those who are ukulele players or any other type of musician or performer can attend the festival. Even those who just want to have a good time or experience what it's like to play an instrument can go to Saraya.
The word 'Mahalo' was chosen for the festival as it is the Hawaiian word for thank you and expresses the warmth and friendliness of the festival.  The aim of this event is to celebrate music and share the love and joy it gives to people. There will be workshops, performances, and open mics. Shoppers can also visit the vendors who'll be present there selling instruments, jewellery, organic foods, cosmetics and much more.
Here is the line-up of performers for the festival:
Neptune Chapotin 
Neptune Chapotin has been playing Mouth Harp for more than 15 years. He is the founder and creative director since 2013 of the World Mouth Harp Festival of India. He s also part of the band 'Third Pulse'.
Anirban Halder
This Mahalo Ukulele Festival co-founder has been making music for more than 14 years. He plays with his band Electric Pulse and teaches students as well.
Tara D'Souza 
Tara has acted in well known Hindi movies. She is also a singer and lyricist and has been working with Anirban on originals.
Laurie Kallevig 
Laurie is the founder of Survivor Girl Ukulele Band Project - bringing restoration and hope to survivors of human trafficking through the power of music and love.
Christina Fernandes
Christina with the help of co-founder Anirban made the Mahalo Ukulele Festival Goa happen. She teaches ukelele in a healing program for traumatized kids in Iraq's refugee camps.
Karan Khosla 
Karan runs Goa Jazz Academy that cultivates talent in Goa's young people.
Luv Mahtani 
Luv is a ukulele teacher and a performer from Pune.
Harry Pearson
Harry is a musician, writer, and actor from London. A multi-instrumentalist and storyteller, his music is inspired by tales of adventure.
Sef Riley 
Sef plays in the band 'The LikeMinded Fools'. Using the ukulele, kazoo and his voice, he performs jazz and Americana from the 20s to the 70s. 
Third Pulse 
Third Pulse is a band that generates rhythm and melody through the power of breath and primordial instruments.
Uke-Box
Uke-Box is a duo of Gladson Peter (known as India's One Man Band) and Nicholas Mohite (one of India's leading Beat-boxers). They combine Ukulele and beat-boxing in various styles like Pop-Rock, Soft Jazz,  party beats, and classic tunes.
Here is a description of the workshops that'll take place:
Curious Clad
Curious Clad will show their "Small World in a Box" sensory play kits. They will conduct various sensory play and art activities planned for the kids to enjoy. All activities are free of charge with the exception of two special workshops.
Pizza making
Learn Saraya Eco-stay's pizza secrets and start creating your own pizzas.
Jellyfish lamp making
Learn to make a jellyfish lamp.
Kids ukulele taster
Learn first chords on the ukulele and the difference between rhythm and beat. You will be able to sing and strum an entire song by the end of it.
Survivor Girl Ukulele Band
Learn Beethoven's Fuer Elise taught by Laurie Kallevig from Survivor Girl Ukulele Band.
Beginner ukulele
This workshop is for those who want to try the ukulele. (Taught by Luv Mahtani)
Fundamental Mouth Harp 
Learn the basics of Mouth Harp playing - tempo, melody, and breath percussion.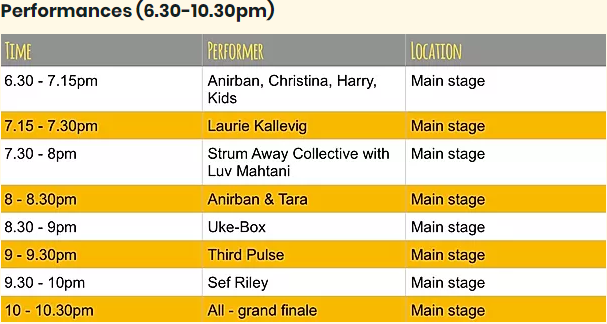 Featured Events
With an aim to strengthening emotional and mental wellbeing via self-awareness, a session on the art of wellness through self-care will be held on July 11 to July 12, 6 p.m. to 8 p.m. on Google Meet. The sessions will be conducted by wellness counsellors, Ketaki Thanki and Talasha Sawant. Details: 7507341959/ soulhealing.co.in
The department of English and Communication at VVM's Shree Damodar College of Commerce and Economics, Margao is organising a webinar titled 'Digital Communication: The New Success Mantra' on July 6 at 11 a.m. The registration link is valid till 8 a.m. on July 6. E-certificates will be provided to all participants. Filling of the feedback form is compulsory in order to receive an e-certificate. Details: https://forms.gle/S5VhYqtuFTgJ52Pq6
Fundacao Oriente is organising an open call for entries for the FundacaoOriente Visual Arts Award (FOVAA) 2020. The competition is open to any artist, 18 years and above, customarily residing in Goa. Both amateur and professional artists are eligible to participate. Works in the mediums of drawing, printmaking, painting, photography, sculpture, installation and video art will be accepted for this award. Submissions will be accepted between July 15 and July 31. Details: fovaa2020 @gmail.com