The 'Ordem Terceira' also known as the 'Santachem Pursanv' or the Penitential Procession of Saints was observed on the fifth Monday of Lent, on March 19 at Saint Andrew Church in Goa Velha.
Thousands of people from all walks of faith thronged the church to be a part of this celebration and seek blessings through the intercession of the saints by passing under the charols and also ask for penance for their sins. The procession of 31 life-size statues that are centuries old were led by the Tau Cross - Coat of Arms, the insignia of the Franciscan order and was followed by other 30 charols shouldered by the confraria members of the Church.
The main celebrant of the Eucharistic service was parish priest of St Andrew Church, Fr Emidio Pinto in the presence of assistant parish priest, Fr Socorro Colaco, Fr Ubaldo Fernandes, Fr Benjamin Victoria, Fr Augusto Dias, Fr Salvador Rodrigues, Fr Salvador Fernandes and Fr Pedro D'Costa. In the homily during the mass Fr Emidio spoke on the theme, 'Santa bhokta baxen mogan jieun jezuchea utrak zaiti follam diunk ani tachem utor dusreank shikounk dev amkam apoita' (God calls us to live and spread his word like the saints did).
Pic Credits- Hemant Parab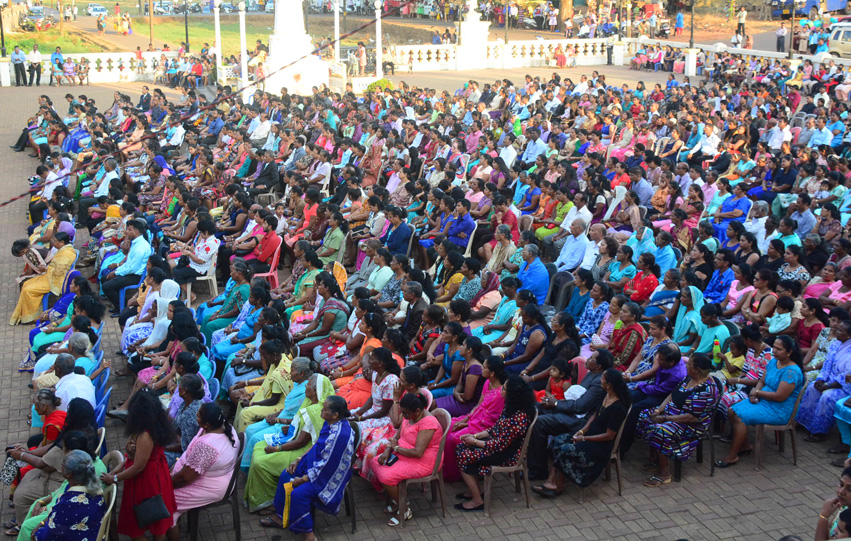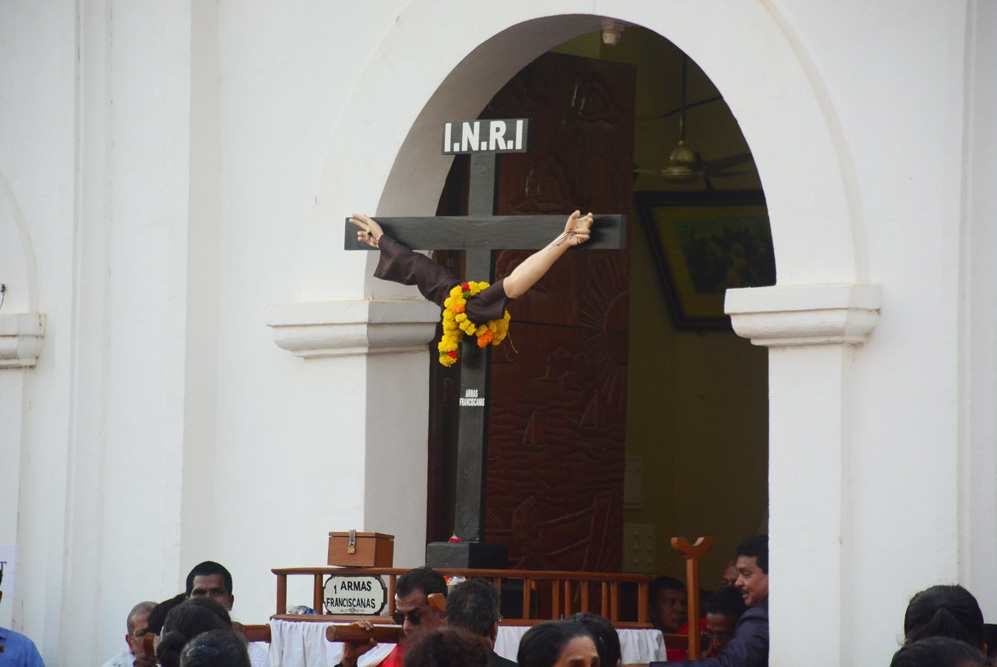 Featured Events
'Mask UnMask', an art exhibition by Querozito de Souza is on till February 24 at Cube Gallery, Moira. Details: 9422806748.
MOG will be hosting  Phoenix– a collaborative installation/display at MOG by eminent artists Genie Poretzky Lee, Sweety Joshi and Sanjay Sawant from 8 to 28, February 2019. Join us for the inauguration of the exhibition on 8 Feb, 2019 at 6:00 pm at Museum of Goa. The artists Genie Poretzky Lee, Sweety Joshi and Sanjay Sawant would be present along with the Director of Museum of Goa, Dr Subodh Kerkar for the opening of the exhibition.
MOG is glad to announce the hosting of Evolving/Eroding – a collaborative exhibition/display by Indian and Danish Art Photographers: Amit Sheokand, Akshay Mahajan, Jagrut Raval, Miriam Nielsen, Jenny Nordquist and Louise Bøgelund Saugmann from 15 to 28, February 2019. Join them for the inauguration of the exhibition at 6:30 pm on 15 Feb, 2019 at Museum of Goa. The opening will be marked by the presence of Thomas Sehested, Director of The Danish Cultural Institute in India; who will give the inaugural address. The artists Amit Sheokand (I), Akshay Mahajan (I), Miriam Nielsen (DK), Jenny Nordquist (DK) and Louise Bøgelund Saugmann (DK) would be present along with the Director of Museum of Goa, Dr. Subodh Kerkar for the opening of the exhibition.
There will be a presentation and walkthrough by artists Louise Bogelund Saugmann & Akshay Mahajan, 17 of Feb 2019 from 11:30 am – 12:30 pm at Museum of Goa, Pilerne Industrial Estate, Pilerne, Bardez, Goa. Akshay Mahajan is a photographer, based out of Goa. His art focuses on social documentary, driven by research led self-initiated projects that combine his interest in myth, folklore and photography as a mirror to culture and collective memory. His work has been exhibited internationally in cities like Zagreb, Newcastle, Riga, London, New Delhi, Paris and New York and is held in private collections. Louise Bogelund Saugmann is an artist based in Denmark working with photography. It is the slow immersion of the subject and an investigation of the photograph as a medium, which is of interest to her. Her work has been exhibited at various museums, galleries and festivals in Europe, such as Museum of art in public spaces (Dk), Hippolyte Photographic Gallery (Fi) and Landskrona Foto Festival (Se). It is the first time her work is shown in India. From different personal approaches, Akshay Mahajan and Louise Bogelund Saugmann have used photography to explore the concept of nature, taking Goa/India as a starting point in their works, Elder Flower and One frame infinite which […]
Sunaparanta – Goa Centre for the Arts is delighted to present AMITRI (Austria) featuring Marialena Fernandes (Austria) on Piano; Ieva Pranskute (Lithuania) on Violin; Amina Vamosi (Hungary) on Flute on Saturday, 16th February 2019 at 6:30 pm. The all-women trio will play compositions of Clara Schumann, Moritz Moszkowski, W.A. Mozart, C. Saint-Saëns, J. Brahms, Ehsan E. Shanjani and others. Since 2015, Fernandes has initiated a project called 'The Quest for Passion' which takes place annually in India, in which she incorporates musicians from Europe and India in dialogue and interaction with each other, but also involving talented youth discussing diverse artistic themes. In addition, the Trio will conduct a session on 'Understanding Chamber Music' for musicians on 19th February, 5 pm at Sunaparanta. Free and open to all.
The State Art Exhibition of Kala Academy in the Student Category will be held between 25th Feb to 1 st March 2019 at the Art Gallery, Kala Academy Complex, Panaji. Entry forms along with the rules and regulations will be available at the Kala Academy's office during working hours from 12th Feb. 2019. The entries along with the exhibits will be accepted on 20th &  21 st February 2019 between 10:00 a.m. to 4:00 p.m. in the office of Kala Academy, Campal, Panaji, excluding the lunch break i.e. from 1:15 p.m. to 2:00 p.m.