Makarand Sathe, a noted playwright, novelist, dramatist and director, feels that nationalism is defined as the ideology of a creating nation state that binds the people of the country in an overarching identity.
Speaking at the inaugural lecture of 11th edition of D.D Kosambi Festival of ideas on February 13 at Kala Academy, Sathe dealt on the issue of 'nationalism, culture and theatre: in times of globalization'. He said that in India there were multiples identities of ethnicities, sub ethnicities, religions, and to some extent castes.
"So when nationalism was formulated, it wasn't easy to follow the concept of European nationalism where nationality was defined by language or culture, and sometimes in the earlier medieval period, as race or religion. Hence, nationalism in India was very liberal that you could keep your sub identities and ethnicities as important as your national identity," he said.
He said that culture was a way of life. It comprises of language, religion and specific lifestyles. It can never be easy to define culture because there exists no static definition of it. Culture can be of two types; one that defines a contemporary way and other that is selective and glorifies a certain section. He went on to add that theatre gave rise to tensions or what is known as series of dramatic events by projecting the social events.
Speaking on modern globalization, Sathe said that, globalization is in fact an integration of various fragments which includes various cultures and identities and the lack of dialogue within these fragments tends to create chaos in the society.
AUSTIN DIAS | NT GoGoaNow
Pic Credit - Shivang Mishra I NT GOGOANOW.COM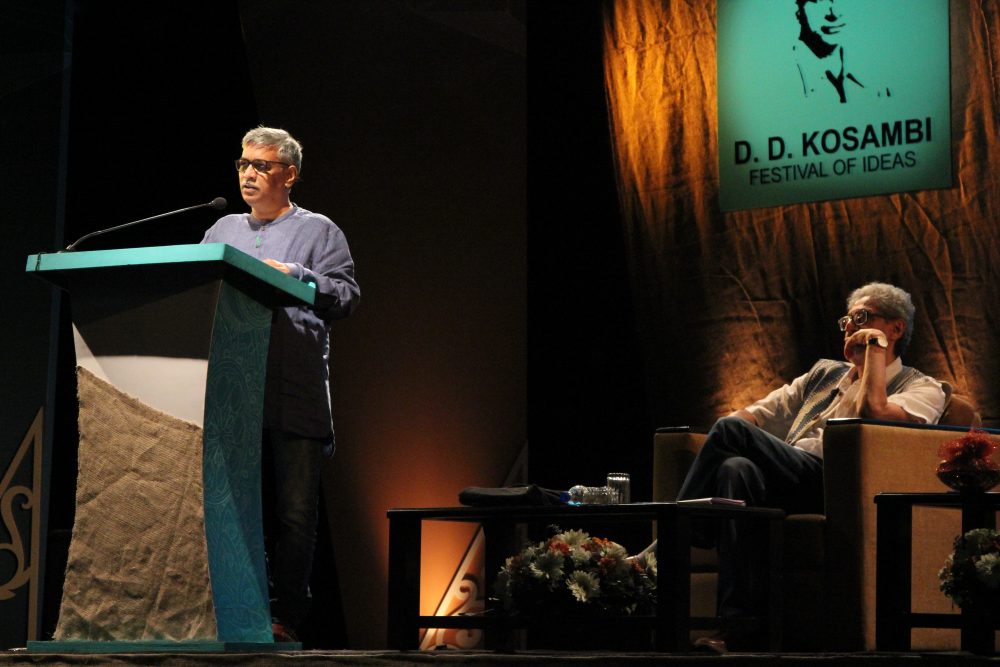 Featured Events
Francis De Sousa, Vasudev Shetye and Nandini Raikar will be exhibiting their art from September 12 till November 30, 11 a.m. to 7 p.m. at H No 386, Amblimoll, Guirdolim, Chandor. The exhibition is curated by private art dealer, Swetlana Cardoso. Details: 9822814957
''In Love… with Love'', a solo art exhibition by artist, Norman Tagore will be held on September 28 till October 31 at The Project Café, Assagao. The exhibition is curated by Samira Sheth and explores the universally powerful force of romantic love through love stories in watercolour and ink. Details: 9833714842.
A series of workshops by Sakib will be held at Saraya Art and Café starting on October 26 till October 29. 'The Natural Rangoli Colours workshop' will take place on October 26, 11 a.m. to 1 p.m. A newspaper wall clock workshop will take place on October 26, 5 p.m. to 7 p.m. Participants will learn to make clocks using old newspapers. Seed Balls Workshop – Learn how to make seed balls at a workshop on October 27, 5 p.m. to 7 p.m. Learn to use basic natural resources like neem leaves, multani mitti and a few more to create soaps that are not just natural but rejuvenating to the skin and body at a workshop on October 28, 11 a.m. to 1 p.m. A newspaper basket workshop will take place on October 28, 5 p.m. to 7 p.m. Learn to create natural mosquito repellents using resources such as coconut oil, peppermint oil, camphor and more on October 29, 11 a.m. to 1 p.m. Learn to make a wallet using newspapers at a workshop on October 29. 5 p.m. to 7 p.m. Details: 9908072960 / 8888926811
As part of it's Stormy Monday Blues' series, a film screening of the film 'Red, White and Blues' directed by Mike Figgis The event is organized by Desmond Nazareth and P D Mukherjee. Contact info: pro@incentgoa.com